'Russiagate gets sillier by the day': Mueller goes after reported Clinton donor Victor Pinchuk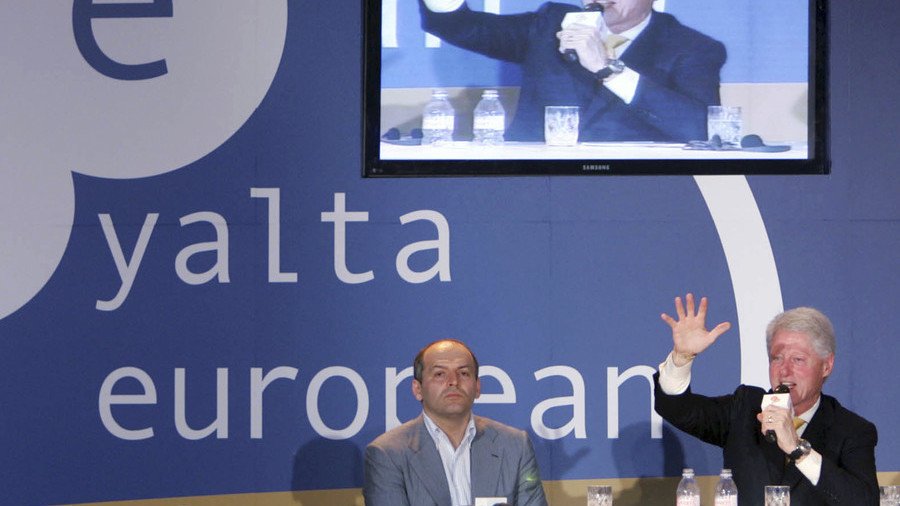 The Twitterverse has mocked the latest Trump-Russia collusion bombshell as a desperate dud, after a Ukrainian oligarch was targeted for donating $150,000 to Trump. The same businessman gave $13 million to the Clintons.
Victor Pinchuk, a Ukrainian steel magnate, made the payment to the Donald J. Trump Foundation in 2015 in exchange for a 20-minute appearance by Trump via video link at a conference in Kiev, according to reports.
But this terrifying tale of Trump collusion has an amusing twist: Pinchuk is a long-time Clinton donor (he's given an estimated $13 million to the Clinton Foundation since 2006, according to the New York Times), and the conference that Trump was paid to speak at wasn't the Putin Appreciation Society, but rather the Yalta European Strategy conference, which promotes pro-European Union policies for Ukraine.
In other words: Robert Mueller's probe into alleged collusion between Donald Trump and the Russian government is now targeting a Clinton Foundation mega-donor who is even listed as a financial supporter of a vehemently anti-Russia, pro-NATO think tank.
As Twitter pointed out, Russiagate gets sillier by the day.
Lol the "Ukrainian magnate" is Victor Pinchuk, mega-donor to the Clinton Foundation, the NATO-backed Atlantic Council, and the NATO-backed government in Kiev. Russiagate gets sillier by the day. https://t.co/bJfpT3tOBN

— Max Blumenthal (@MaxBlumenthal) April 10, 2018
The same Pinchuk who gave Clinton Foundation over $10 million, and who financed Maidan revolution groups. La commedia never finitas https://t.co/PYN1bPup2N

— Mark Ames (@MarkAmesExiled) April 10, 2018
Not sure this gets any better. Mueller now investigating a 6-figure sum made to Trump org by Victor Pinchuk during the campaign. Pinchuk also donated millions to Clinton Foundation & met with HRC while he dumped steel. pic.twitter.com/l7ea5TjgsH

— Noah Rothman (@NoahCRothman) April 10, 2018
The Ukrainian, Victor Pinchuk, has directed between $10 million and $25 million to the Clinton foundation as well. He even lent his private jet to the Clintons and traveled to Los Angeles in 2011 to attend Bill Clinton's 65th birthday. Mueller will ignore.https://t.co/uCOs4CE9ykhttps://t.co/plSIomYAag

— Nick Short 🇺🇸 (@PoliticalShort) April 10, 2018

Others on Twitter alleged that Pinchuk virtually had the Clintons on speed dial. An email released by WikiLeaks shows that Pinchuk was begging for a meeting with Bill Clinton just weeks before Hillary announced her presidential run in April 2015.
Journalist Max Blumenthal noted on Twitter: "Mueller has had to widen his net to the point that he is inadvertently undermining the narrative of collusion. That's what I found so funny about this case."
Think your friends would be interested? Share this story!
You can share this story on social media: