Trump's pick for State Secretary Pompeo says no more soft policy toward Russia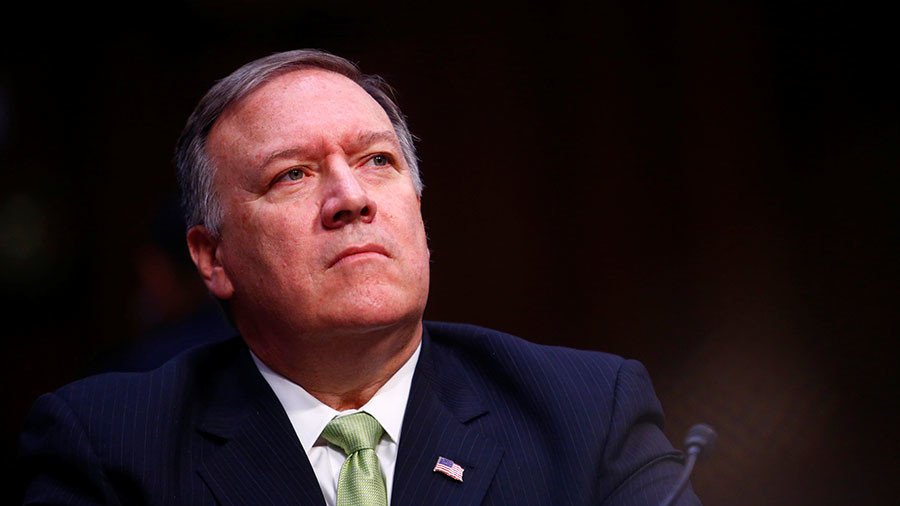 CIA director Mike Pompeo, who was picked by President Donald Trump to lead US foreign policy, has declared that the days of what he called a "soft policy" toward Russia are over. At the same time, he said dialogue must continue.
"Russia continues to act aggressively, enabled by years of soft policy toward that aggression. That's now over. The list of this administration's actions to raise the cost for [Russian President] Vladimir Putin is long," Pompeo said in his prepared testimony before the Senate. Excerpts of his testimony were released by the White House on Thursday.
The intelligence chief, known for his hardline approach to foreign affairs, stated that the Trump administration's handling of the Russia issue has made it clear that it "rightfully, has identified Russia as a danger to our country."
Listing the measures taken by the Trump White House to tame Moscow, Pompeo mentioned the planned US military build-up, modernization of its nuclear arsenal, as well as rounds of punitive measures against Russia.
"We have imposed tough sanctions and expelled more Russian diplomats and intelligence officers from the US than at any time since the Cold War," Pompeo said.
He also praised the Trump administration's efforts in supplying Ukraine and Georgia with weapons, claiming that Washington is helping them to resist "Russian expansionism."
Despite chalking up the record numbers of expelled Russian diplomats as an achievement, Pompeo claimed Washington will continue talking to Moscow.
"Our diplomatic efforts with Russia will prove challenging, but as in previous confrontations with Moscow, will continue," he stated.
Pompeo's words come at a time when all eyes are fixed on the volatile situation in Syria, where a direct military confrontation between the US and Russia could be imminent. The US and its allies have been considering a military strike against the Syrian government after they blamed Damascus for a reported attack on the town of Douma with chlorine-filled munitions, accusing Moscow of complicity. Moscow, pointing to the controversial sources behind the allegations, refutes them as a fabrication to justify a long-planned military invasion. Russia has urged the West to show restraint and refrain from illegal military action in Syria.
So far, Trump has not been very diplomatic about the situation, threatening Moscow with "nice, new and 'smart'" missiles to strike Syria. However, White House press secretary Sarah Huckabee Sanders later said that no final decision has been made and "a number of options" are still on the table.
It is widely expected that Pompeo, who is set to replace Rex Tillerson at the helm of the US diplomacy, would also take a harder stance towards Iran, which reportedly became a bone of contention between the former state secretary and the president, who has castigated the Iranian nuclear deal on numerous occasions. Pompeo, who once estimated that some 2,000 sorties would be needed to destroy the Iranian nuclear capacity, appeared to share Trump's sentiment.
But in his testimony he tried to project a less warlike image, saying: "when journalists, most of whom have never met me, label me – or any of you – as 'hawks,' 'war hardliners,' or worse, I shake my head."
"There are few who dread war more than those of us who served in uniform," Pompeo said, arguing that a US military presence doesn't mean the US is going to war.
"War is always the last resort," he said.
He also promised to push forward with the upcoming talks in North Korea, relying on "CIA histories of previous negotiations."
"President Trump isn't one to play games at the negotiating table — and I won't be either," he said
You can share this story on social media: