US relationship with Russia 'worse than it's ever been' – Trump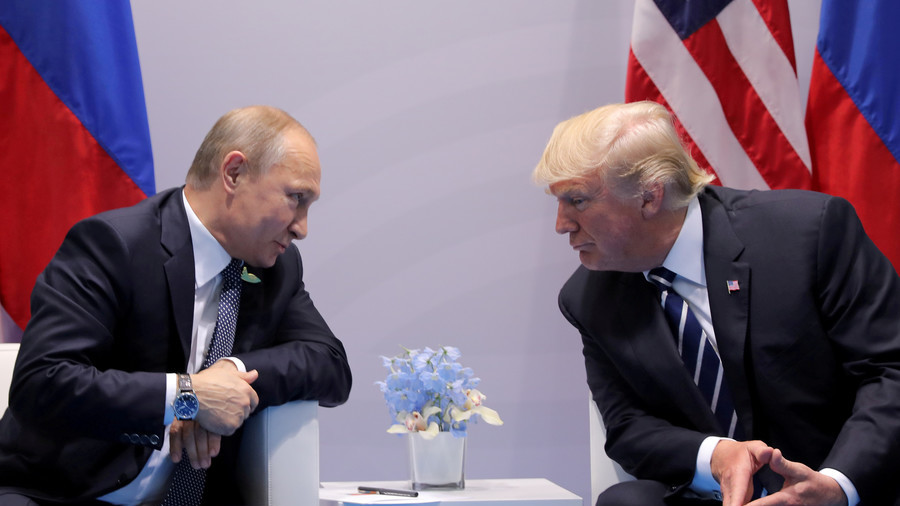 The relationship between the US and Russia is at its worst point in history, US President Donald Trump believes. The bold remark came after he warned Moscow to "get ready" for American missiles to be launched at Syria.
"Our relationship with Russia is worse now than it has ever been, and that includes the Cold War. There is no reason for this. Russia needs us to help with their economy, something that would be very easy to do, and we need all nations to work together. Stop the arms race?" Trump tweeted.
Shortly afterwards Trump also blamed the Democrats, tweeting that "much of the bad blood with Russia" has been caused by the "fake and corrupt" Russia investigation. The tweet referenced the probe which continues despite no evidence being found that there was any collusion between the US president and Moscow during the 2016 presidential election campaign.
This, however, came just minutes after Trump said in a separate tweet that Moscow should "get ready" to shoot down missiles aimed at Syria after the Russian ambassador to Lebanon stated that his country would do so.
The two tweets left the Twittersphere confused, with many noting that one minute Trump was accusing Russia of being friends with the "gas killing animal" Bashar Assad, and the next saying there is "no reason" that the relationship between Moscow and Washington is so bad.
Twitter user @BlueWaveAhead was quick to point out the irony. "First you threaten Russia, then you hurry up to try and make nice. This is crazier than usual...you seem nervous," she wrote.
"Between the last tweet and this one, you're off the rails," Brock from near Washington, DC, tweeted.
Political analyst Bill Palmer was quick to accuse Trump of being the reason for the bad relationship between Washington and Moscow. "Gee, whose fault is that?" he asked.
Another person told Trump to "make your mind up," asking whether he wants war or to work together with Russia.
Meanwhile, Frank Warwick from Cheshire, UK, said that Trump's military advisers are "breaking their bollocks to start a war with Russia." He went on to ask why the US president needs to pretend he is the "world police," adding that such behavior didn't work in Iraq or Afghanistan.
Others took the opportunity to remind people that although Trump is threatening to send missiles to Syria, he tweeted in 2013 to "foolish leader" Barack Obama that "many bad things would happen" if the US attacked the Middle Eastern state. "From that fight the US gets nothing!" he said at the time.
Others pointed to a 2013 tweet in which Trump said that he "would not go into Syria, but if I did it would be by surprise and not blurted all over the media like fools."
Trump has been quick to place blame on President Bashar Assad for being behind an alleged chemical attack in Syria, without waiting for the results of an official investigation by the Organization for the Prohibition of Chemical Weapons (OPCW). The allegations also come despite the fact that the Russian military traveled to the scene and found no evidence of a chemical attack, and that the initial report on the alleged incident came from the rebel-linked White Helmets.
Think your friends would be interested? Share this story!