Entangling alliances or scoring at home? Why US went out of its way with Russian diplomat expulsions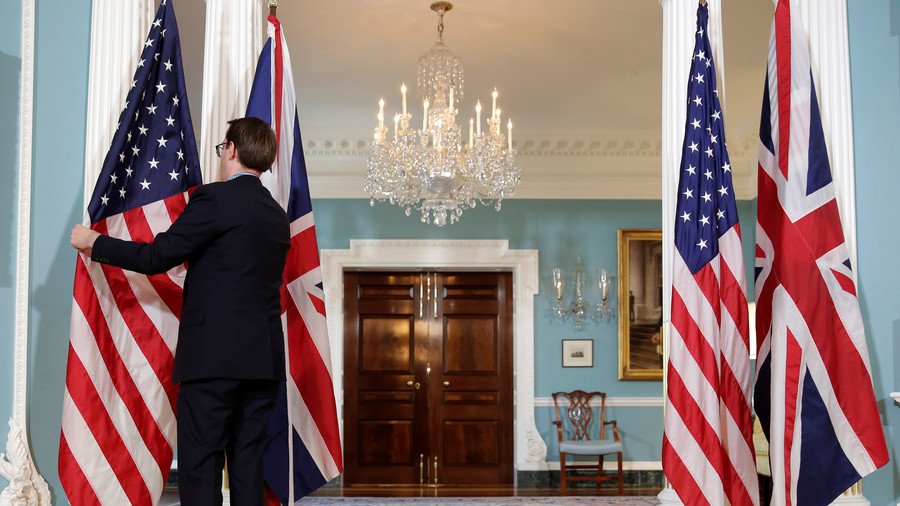 The decision to expel 60 Russian diplomats suggests that President Donald Trump is either following the siren call of 'entangling alliances,' or taking the lead in escalating the conflict with Moscow to appease domestic critics.
Not only did Trump's order affect more than twice as many diplomats as the March 14 move by London, it accounts for more than half of the total Russian diplomats expelled by various US allies on Monday. Monday's action is the biggest expulsion of alleged "intelligence officers" since the Cold War and the largest in US history, according to US ambassador to Russia, Jon Huntsman.
Though Trump campaigned on the "America First" foreign policy, openly critical of the nation-building and "humanitarian" interventions his predecessors engaged in, little of that remains after the first year of his presidency. The media and the opposition Democrats appear to have buttonholed the president with never-ending accusations that he is somehow "soft" on Russia.
In reality, the current administration has taken the hostility toward Moscow, inherited from Barack Obama's second term, and turned it up a notch, from pressuring Russian media to register as foreign agents and approving the sale of anti-tank missiles to Ukraine, to expelling more Russian diplomats and shutting down consulates.
In addition to expelling the diplomats, Trump ordered the closure of the Russian consulate in Seattle, Washington. The decision cited the consulate's proximity to a US submarine base and to Boeing production facilities, implying the diplomats were really intelligence operatives.
That was echoed by White House deputy press secretary Raj Shah, who told reporters the expulsion is aimed at "significantly degrading their intelligence capabilities around the world, not just in the US."
Shah said the move was "coordinated with NATO allies," and represented a US response to Russia's "brazen and reckless" actions, namely, the alleged nerve agent attack that reportedly injured former spy Sergei Skripal and his daughter Yulia in Salisbury, UK, three weeks ago.
16 EU states now expelling 33 Russian diplos🇩🇪 Germany 4🇵🇱 Poland 4🇨🇵 France 4🇨🇿 Czech 3🇱🇹Lithuania 3 🇮🇹 Italy 2🇩🇰 Denmark 2🇳🇱 Netherlands 2🇪🇸 Spain 2🇱🇻 Latvia 1🇫🇮 Finland 1🇪🇪 Estonia 1🇷🇴 Romania 1🇸🇪 Sweden 1 🇭🇷Croatia 1🇭🇺Hungary 1

— Danny Kemp (@dannyctkemp) March 26, 2018
British authorities have asserted that Russia was "highly likely" to have been behind the incident, but have refused to provide any evidence to back up Prime Minister Theresa May and Foreign Minister Boris Johnson's words. Johnson even went so far as to compare Russian President Vladimir Putin to Adolf Hitler - twice! - though it was Russia that carried the disproportionate burden in defeating Hitler's "Thousand-year Reich" in the Second World War.
On March 14, May ordered the expulsion of 23 Russian diplomats. Russia retaliated by expelling the same number of British diplomats, as well as shutting down the consulate in St. Petersburg and British Council operations in Russia.
Seasoned observers of international relations might note that it is usually Britain that follows the US lead – whether in the 1999 attack on Yugoslavia, the 2003 invasion of Iraq, or the 2011 regime change operation in Libya – and not the other way around. Yet, according to White House's Shah, the US is "joined at the hip" with the UK on this. What gives?
This needs to be emphasized. The majority of the EU countries did not join in this mass expulsion. As for those that did, expulsions were mostly pro forma, undertaken in order to keep the British happy. Why then the wildly disproportionate response from Trump? https://t.co/4FldvIS80W

— George Szamuely (@GeorgeSzamuely) March 26, 2018
America's first president, George Washington, warned way back in 1796 of the danger of "entangling alliances," which would draw the newly created country into foreign wars on behalf of allied governments. Such alliances would also lead to poor relations with other nations and distort US policies to favor the wishes of its allies over the will of the American people.
Yet today's US policymakers, from the highest officials of the Trump administration to the NeverTrump think-tanks, treat it as an article of faith that the US is strong because it has entangling alliances with countries all over the world, and a military presence all over the planet.
Washington and other allies of London "blindly follow the principle of Euro-Atlantic unity at the expense of common sense, the rules of civilized state-to-state dialogue and the principles of international law," the Russian Foreign Ministry said, condemning the expulsions.
Shah's comments, that the US relationship with Russia is entirely "up to the Russian government and up to Putin," as if Washington had no agency in the matter, certainly seems to suggest that Trump is all tangled up in the "special relationship" with London.
However, there is also the possibility that Trump or some of his advisers are pursuing hostility towards Moscow in order to counter the narrative of 'Russian collusion' – which originated from the Hillary Clinton campaign after the humiliating loss in the 2016 election, and continues to be pushed by many in the US media and the Democratic party.
"What we are witnessing now is part of a long-term program of unbridled Russophobia," Foreign Ministry spokeswoman Maria Zakharova told Rossiya-1 TV.
Reporters covering the White House presented a good example on Monday. In the rare moments when they digressed from discussing Trump's alleged affair with porn star Stormy Daniels, reporters mostly wanted to know "what took so long" to expel the diplomats and why more is not being done against Russia. CNN's Jim Sciutto finally got a question, only to demand more sanctions against "Russian oligarchs" and Putin personally.
No matter what Trump does against Russia, it fails to mollify his critics, who see evidence of his "collusion" with Moscow in absolutely everything.
Closing Russia's consulate in Seattle hurts Americans in our Northwest who want to visit Russia, not Putin's oligarchs. Typical misdirection by Trump Administration.

— Laurence Tribe (@tribelaw) March 26, 2018
Trump didn't have an option to keep the 60 Russian spies posing as diplomats in the US, but I guarantee he looked for one. He also hasn't criticized Putin or implemented all of the sanctions Congress passed against Russia. Trump's a traitor & shouldn't be president. #ImpeachTrump

— Scott Dworkin (@funder) March 26, 2018
Whatever the intent behind Monday's decision, its timing and execution were certainly problematic. The expulsion of diplomats came as Russia was collectively mourning the deaths of 64 people, many of them children, in a mall fire in the Siberian city of Kemerovo. Adding insult to injury sounds like really poor diplomacy, no matter who's behind it.
Then again, as the former UN Secretary-General Boutros Boutros-Ghali noted in his 1999 memoir, Washington sees no need for diplomacy when power will do.
"The Roman Empire had no need for diplomacy. Nor does the United States," wrote Boutros-Ghali.
You can share this story on social media: