Putin's World Cup is like Hitler's 1936 Olympics – Boris Johnson (VIDEO)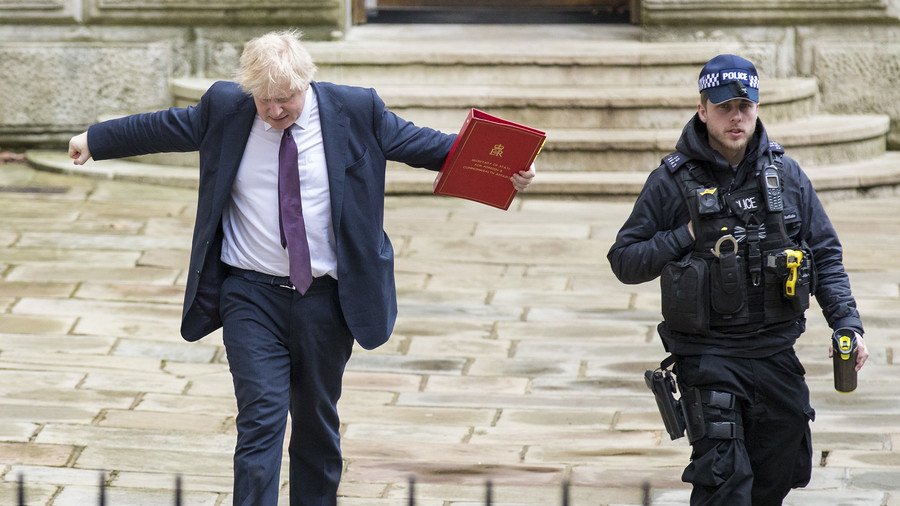 Boris Johnson has raised the bar for UK officials' barrage of accusations and criticism against Moscow to a new level, by suggesting that Russia hosting the World Cup is like Hitler hosting the Olympics in 1936.
"I think the comparison with 1936 is certainly right. It is an emetic prospect to think of Putin glorifying in this sporting event," he told the receptive Foreign Affairs Committee. When questioned as to why, in that case, England's World Cup team has not been pulled from the tournament, the UK foreign minister stated it "would be wrong to punish the team."
Such an outburst is "unworthy of a head of a European state's diplomatic service," the Russian Foreign Ministry spokeswoman said in response, adding that it is "scary" that Johnson is a "representative of a nuclear power."
In his tirade, the UK foreign secretary pointed the finger unequivocally at Russia over the recent double-agent poisoning, telling the Foreign Affairs Committee (FAC) that the attack on Skripal was a message for Russian defectors: "No one can escape the long arm of Russian revenge." Johnson has been one of the most fervent Tory MPs in his attacks on Russia, going so far as to accuse Russian President Vladimir Putin of personally ordering the attack.
Continuing, he iterated that the A-234 nerve agent (also known as Novichok) was used: "to put a Russian signature on the deed and by using a specific type of nerve agent developed in the Soviet Union, in Russia. It was a sign that no former Russian agent was immune."
The Commons foreign affairs committee heard how Johnson believed that the timing of the poisoning was likely linked to the weekend's Russian presidential election, which incumbent Putin won by a landslide. "The timing (of the Salisbury attack) is probably more closely connected with the recent election in Russia," Johnson said. "And as many non-democratic figures do when facing an election or facing some critical political moment, it is often attractive to conjure up in the public imagination the notion of an enemy."
The alleged Russian attack on UK soil was not muscle flexing aimed at the UK, or even Europe, according to Johnson, it was a show of strength for Putin's audience at home. "I think Vladimir Putin… wants to cause trouble wherever he can," Johnson said. "His principle audience for this is not us, it's his domestic audience who want, after what they see as all these humiliations, who want to feel that Russia is strong again."
The foreign secretary went on to tell the committee that the UK Government is not trying to kick off a modern day cold war. "I want to be very clear – we do not wish to engage in a new Cold War… I remember the old Cold War and it was a pretty miserable time," he said.
READ MORE: Johnson says UK to hand Skripal evidence to OPCW as he points finger at Moscow
"I grew up genuinely worrying that our country was going to be evaporated in a thermonuclear strike. I don't think we face that kind of existential threat but it is a threat nonetheless and we have to be very tough and very resolute."
Russia has firmly dismissed all the allegations and urged the UK to provide samples of the nerve agent or some other evidence, instead of simply producing accusations.
Speaking on the BBC's Andrew Marr Show on Sunday, Johnson said experts from the Organization for the Prohibition of Chemical Weapons (OPCW) would take test samples of the substance in question. He accused Russia of creating and storing the 'Novichok' nerve agent, claiming that the UK has "evidence… collected over the past 10 years" that Moscow has been developing nerve agents "for the purpose of committing murder."
Last week, Prime Minister Theresa May confronted Moscow with an ultimatum to reveal the details of the alleged Skripal plot. After her demand was rejected, the UK imposed sanctions on Moscow, which included expelling 23 diplomats, limiting diplomatic ties and freezing Russian state assets in the UK.
In response 23 employees of the British embassy in Moscow have been declared personae non grata.
Speaking last week, said Russian Foreign Minister Sergei Lavrov said:"The fact, that they [UK officials] categorically reject to file an official request and deliberately and arrogantly fan anti-Russian rhetoric in the public sphere bordering on hysteria, indicates that they clearly understand they have no formal pretext to go down a legal road."
If you like this story, share it with a friend!
You can share this story on social media: