'America First': Trump lays out foreign policy vision in Washington speech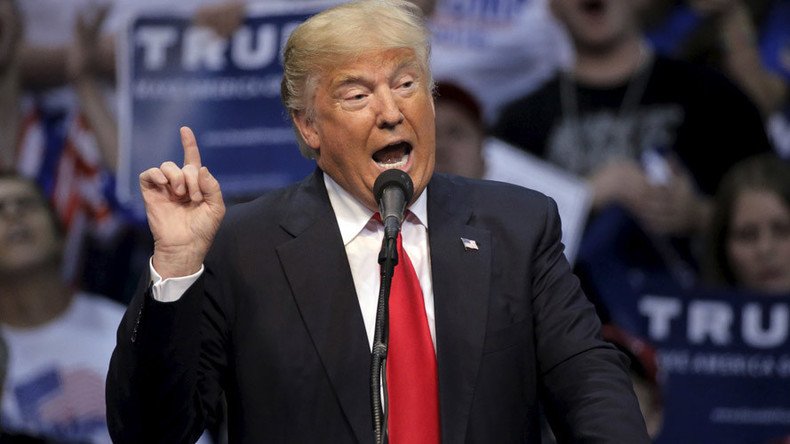 Contradictory at times, long on criticism and short on detail, GOP frontrunner Donald Trump's foreign policy speech on Wednesday nonetheless focused on the idea of "America first." He outlined his strategy on Iran, Israel, ISIS, nukes and 'outdated' NATO.
Since entering the presidential race last June, Trump has caused outright panic in the US foreign policy establishment with a series of positions which no one in Washington previously dared to advocate, including dismantling NATO and banning Muslim immigration.
He elaborated on those pronouncements in Wednesday's speech at the Mayflower Hotel in Washington, DC, saying his policy would "replace randomness with purpose, ideology with strategy, and chaos with peace."
"My foreign policy will always put the interests of American people and American security above all else. That will be the foundation of every single decision I will make. 'America first' will be the major and overriding theme of my administration," Trump said.
Much of the speech was taken up by criticism of the "Obama-Clinton" foreign policy following the end of the Cold War, clearly taking jabs not just at Hillary Clinton's tenure as President Barack Obama's Secretary of State, but with the foreign policy of her husband, President Bill Clinton.
Arguing that the Obama-Clinton policies have resulted in the US being disrespected by rivals and enemies, mistrusted by allies, and weakened by a series of failed wars, Trump vowed to rebuild the US military might while abandoning the nation-building crusades around the globe.
Sowing chaos in the Middle East
In the 1990s, Trump said, the US spent more energy on getting China into the WTO than reacting to terror threats from Al-Qaeda, even missing a chance to take out terrorist mastermind Osama Bin Laden. The result of this approach were the 9/11 terror attacks in 2001, Trump argued, calling that event "worse than Pearl Harbor," the 1941 attack by the Japanese fleet that drew Washington into WW2.
Trump also blasted the 2003 invasion of Iraq led by the Republican President George W. Bush as well as Obama's handling of the region since 2008, however.
"Our actions in Iraq and Syria have helped unleash ISIS," Trump said, while the US has "done nothing to help the Christians, and we should be ashamed."
"We made Middle East more chaotic than ever before," he added.
Calling efforts to remake the Middle East into Western-style democracies a "dangerous idea" that resulted in trillions of dollars and countless lives "horribly wasted," Trump said his priorities in the region would be to defeat terrorists and promote regional stability.
"We're getting out of the nation-building business," Trump announced.
NATO, ISIS, Iran and Israel
Once elected, Trump said he would call for summits with America's NATO and Asian allies, to discuss a rebalance of commitments and to develop new strategies. NATO's "outdated mission and structure" ought to be updated to confront shared challenges, such as mass migration and the treat from radical Islamic terrorism, he argued.
Containing and defeating radical Islam must be a priority for the US and its allies, Trump argued, saying he would work with Muslim countries most at risk from radical Islamic violence. That relationship, however, will have to be a two-way street, he said. "They have to appreciate what we have done for them."
At the same time, "we must stop importing extremism through senseless immigration policies," he said.
Iran "cannot be allowed" to ever have a nuclear weapon, Trump repeated three times, and accused Obama of snubbing US friends – such as Israel – while "bowing to our enemies."
Rebuilding America
In the course of the speech, Trump circled back to his main theme of rebuilding America before going abroad. He cited the loss of jobs, runaway debt, and trade deficits as problems that need to be addressed so that the US could rebuild its military might.
The US nuclear arsenal "has been allowed to atrophy" and desperately needs modernization, Trump argued, as do the Army, Navy and the Air Force.
"Our military is depleted, and we're asking our generals… to worry about global warming," he said, taking another jab at the Obama administration.
"Our military dominance must be unquestioned, by anybody and everybody," Trump argued, but added that not one dollar can be wasted in the process. He also promised that US troops would have "the best equipment in the world" while they fight, and "the best care in the world" when they return as veterans.
Diplomacy over aggression
Trump tempered his remarks about military dominance, however, by saying that war would be his very last resort.
"War and aggression will not be my first instinct," he said, explaining that a true superpower knows that caution and restraint are not signs of weakness. "Our power will be used if others do not play by the rules."
"We want to live peacefully and in friendship with Russia and China," the GOP frontrunner added, noting that Russia, too, has seen the horrors of Islamic extremism. "We are not bound to be adversaries."
Trump said he would strive to improve relations with both countries, approaching from a position of strength.
"When America fights, it must only fight to win," he said. President Trump would never send troops into battle "unless absolutely necessary, and will only do so when we have a plan for victory with a capital V."
Something old, something new
Trump's speech was hosted by the Center for the National Interest, which describes itself as a "voice for strategic realism." He said his goal was to establish a foreign policy "that will endure for several generations."
While saying that he intended to put together a fresh team of foreign policy experts, rather than relying on establishment pundits who have contributed to the current state of affairs, Trump also reached back to early US history, echoing the famous line delivered in 1821 by Secretary of State and future president John Quincy Adams.
"We do not go abroad in search of enemies," he said, "We're happy to see our old enemies become friends, and friends become allies."
You can share this story on social media: