'I can't say': Education Sec. DeVos scores an 'F' when asked about her state's schools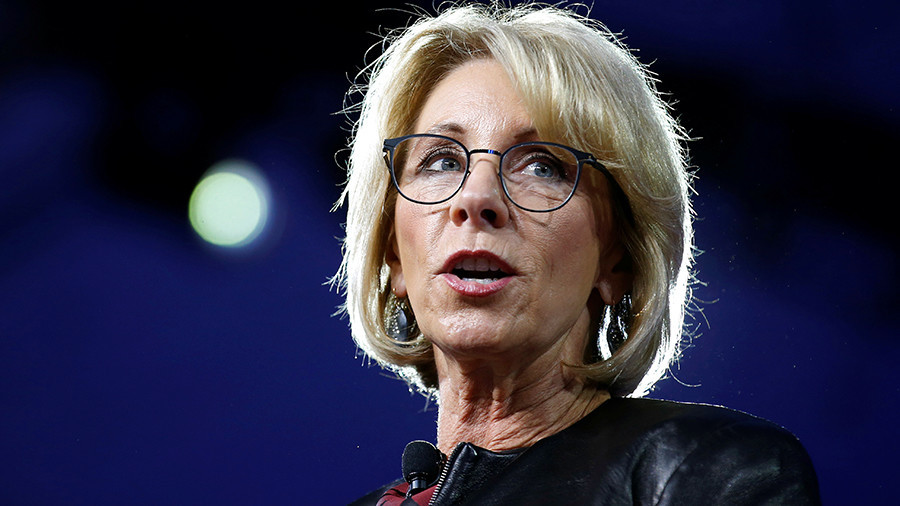 Education Secretary Betsy DeVos faces public backlash after she confessed she did not know how public schools were performing in her home state of Michigan. DeVos has been pushing reductions in funding for public schools.
Trump's Secretary of Education was quizzed about school performance in the US, in an interview with Lesley Stahl on the CBS 60 Minutes program on Sunday. But, when tested about her own state, the math didn't add up.
DeVos was questioned in relation to her charter school program, which she touts as a favourable alternative to traditional public schools. Charter schools are privately run but publicly funded.
Asked whether public schools in Michigan have improved, DeVos flailed. "I don't know. Overall, I-- I can't say overall that they have all gotten better." she said.
Reading standards in Michigan schools have declined rapidly in the past three years, according to a report published last week by Education Trust-Midwest, a non-partisan research and advocacy organization. It reveals that over half of third-grade students did not pass the reading test on Michigan's state assessment in 2017.
DeVos disclosed that she has not "intentionally" visited schools which are underperforming. Stahl suggested she should, to which DeVos responded, "Maybe I should. Yes"
Twitter users were swift to rebuke the controversial billionaire Secretary from Michigan.
However others were less than impressed with Stahl's interview style.
DeVos has earned praise from conservatives over her school choice agenda, which advocates the expansion of private, parochial and charter schools and a reduction in funds to public schools. Liberal critics say this drives public school standards down and promotes privatization. Around 90 percent of American children attend public schools.
DeVos has placed the expansion of school choice, or alternatives to public education in other words, at the core of her education policy platform. In President Donald Trump's 2018 proposed budget, he called for $167 million for the Charter Schools Program and $250 million for a school voucher proposal. Meanwhile, federal education programmes face steep cuts.
In September 2017, DeVos revoked Obama-era rules outlining how universities should respond to sexual assault complaints on campus.
DeVos is one of the most divisive members of Trump's cabinet. She had to be escorted away from a public school in the District of Columbia when protests outside escalated during her visit there last year.
In 2017 she narrowly scraped the votes in the Senate needed to confirm her position as Education Secretary, requiring a tie-breaking vote cast by vice president Mike Pence.
Like this story? Share it with a friend!
You can share this story on social media: