Trump taps Michigan philanthropist Betsy DeVos to be secretary of education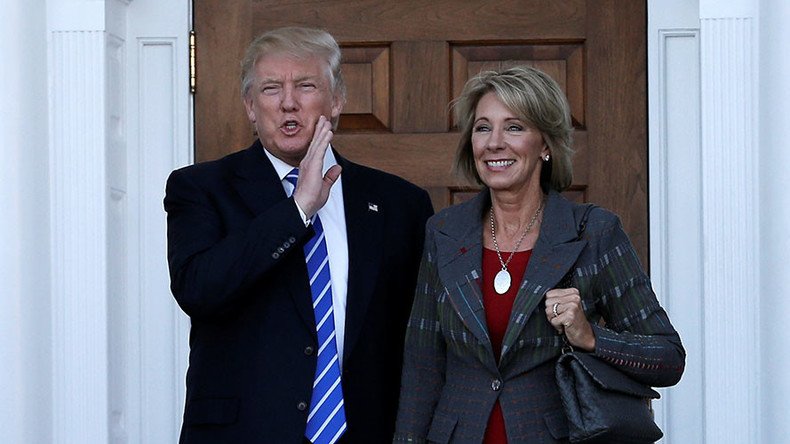 President-elect Donald Trump will nominate Michigan philanthropist and chair of the education organization American Federation of Children Elisabeth 'Betsy' DeVos to be his secretary of education.
Trump called his pick "a brilliant and passionate education advocate."
" "Under her leadership we will reform the U.S. education system and break the bureaucracy that is holding our children back so that we can deliver world-class education and school choice to all families," the president-elect said in a statement.
DeVos is a former chair of the Michigan Republican Party who has never worked in public education. Her children attended private Christian schools. As the chairwoman of American Federation of Children, she is a proponent of the school choice movement, which calls for vouchers that allow families to use federal funds to cover the cost of education at private schools. She is also in favor of charter schools, but not of state regulation of them. Michigan's charter schools are among the least regulated in the country, thanks to the DeVos family influence, Chalkbeat reported.
I am honored to work with the President-elect on his vision to make American education great again. The status quo in ed is not acceptable.

— (@BetsyDeVos) Nov 23 2016
"There are a lot of schools that are doing poorly and charter authorizers do not seem to be taking the necessary actions to either improve performance or close those underperforming charters," current US Secretary of Education John King told Chalkbeat about Michigan in October.
If confirmed, DeVos would replace King, who was confirmed in March 2016.
Although Trump has vocally stated his opposition to the Common Core curriculum ‒ shared learning standards adopted by most states ‒ DeVos says she supports "high standards, strong accountability, and local control," but is opposed to how the curriculum got turned into "a federalized boondoggle." However, she is on the board of the Foundation for Excellence in Education, a group founded by former Florida Governor Jeb Bush that promotes both school choice and Common Core.
DeVos met with Trump on Saturday in New Jersey, and the president-elect's team said that the conversation "focused on the Common Core mission, and setting higher national standards and promoting the growth of school choice across the nation,"according to Education Week.
Her brother is Erik Prince, the founder of Blackwater, a notorious mercenary company. Her father-in-law, Richard DeVos, co-founded Amway ‒ a multi-level marketing company that mainly sells health, beauty and home care products ‒ and also owns the Orlando Magic basketball team in Florida.
In 1980, the Department of Education was spun off from the Department of Health, Education, and Welfare, which was created in 1953. Its mission is "to promote student achievement and preparation for global competitiveness by fostering educational excellence and ensuring equal access."
Agencies under its purview include Federal Student Aid, the Center for Faith-based and Neighborhood Partnerships, and several White House initiatives. Notable secretaries of education include William Bennett (1985-1988), now Senator Lamar Alexander (R-Tennessee; 1991-1993) and Arne Duncan (2009-2016). The secretary of education is 16th in the presidential line of succession.
The National Education Association decried the nomination, arguing that DeVos "has consistently pushed a corporate agenda."
Nat'l Education Association out with statement slamming Betsy Davos: "She has consistently pushed a corporate agend… https://twitter.com/i/web/status/801495281359585280

— (@kylegriffin1) Nov 23 2016
DeVos' "efforts over the years have done more to undermine public education than support students," NEA President Lily Eskelsen Garcia said in a statement. "She has consistently pushed a corporate agenda to privatize, de-professionalize and impose cookie-cutter solutions to public education. By nominating Betsy DeVos, the Trump administration has demonstrated just how out of touch it is with what works best for students, parents, educators and communities."
You can share this story on social media: