Family of disabled girl takes service dog case to Supreme Court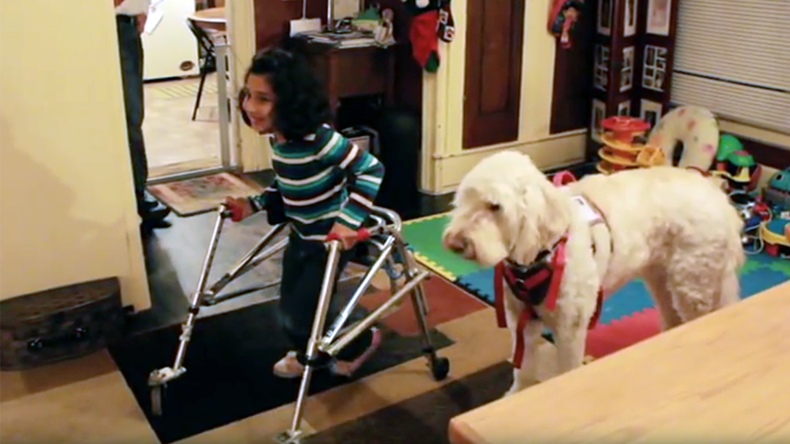 If a public school district refuses to allow a student's trained service dog in school, can the student sue in federal court? That's the question facing the Supreme Court in a case concerning a Michigan girl with cerebral palsy.
On Monday, the Supreme Court will consider the question brought about by a lawsuit against a school district in Napoleon, Michigan. Stacy and Brent Fry, parents of Ehlena Fry, a girl with cerebral palsy, sued the district in federal court after the district refused to allow Ehlena's service dog, Wonder, to assist her throughout the school day with tasks ranging from opening and closing doors to stabilization when she transferred from her walker to a seat.
The Frys bought Wonder in 2009, when Ehlena, now a middle schooler, was five years old, according to reports.
The school district says it followed legal guidelines set forth in the Individuals with Disabilities Education Act by providing an aide to help Ehlena at school, thus rendering the dog unnecessary. Furthermore, after a 30-day trial run with the dog in Ehlena's school, the district said the hypoallergenic Goldendoodle could bother students and teachers allergic to dogs, and that one student had recently been attacked by another dog and was afraid. Wonder was not allowed back in the school.
The Frys argued that Wonder helped their daughter perform functions in a way that helped her take on more responsibility over time, becoming more independent in the process.
"One of our whole goals in getting Wonder for her was that eventually, the more she was able to use Wonder and navigate her environment, that she would need the aide less and less," Stacy Fry told NPR.
The Frys eventually transferred Ehlena to a new school district where Wonder was "enthusiastically welcomed," the suit says. But, in December 2012, the Frys sued the Napoleon school district in federal district court, claiming the district violated the Americans with Disabilities Act. They are seeking monetary damages for their daughter's emotional distress in the process of changing schools.
Stacy Fry told NPR that, more important than the money, the case is about helping meet the needs of students with service animals "so that they don't have to have what happened to my daughter happen to their child."
Yet the school district says that such a challenge to a district's education policies should go through a state's administrative appeals process before a federal court is involved. The district, backed by the National School Boards Association, argues that to allow such lawsuits to go forward before administrative appeals could cost school districts millions of dollars.
The Frys, backed by the American Civil Liberties Union, say that qualified service animals should be allowed for disabled children at schools, and that such challenges to school district policies should be heard in federal courts. They believe that they are only required to go through a remedial administrative process if they are asking for relief through an Individuals with Disabilities Education Act administrative proceeding, which the Frys argue they are not. They are not accusing the district of violating that law at all, but that the issue was their daughter's independence at school, which is guaranteed by the Americans with Disabilities Act, according to ScotusBlog.
The family has lost in lower courts, appealing all the way to the Supreme Court. To win their lawsuit, the Frys believe they must show their daughter "was denied the right, guaranteed to any person with a disability, to be accompanied by her service dog in a public facility."
Following Monday's oral arguments, a decision in the case is expected next year.
You can share this story on social media: