Guide dog throws itself in front of oncoming school bus to save blind owner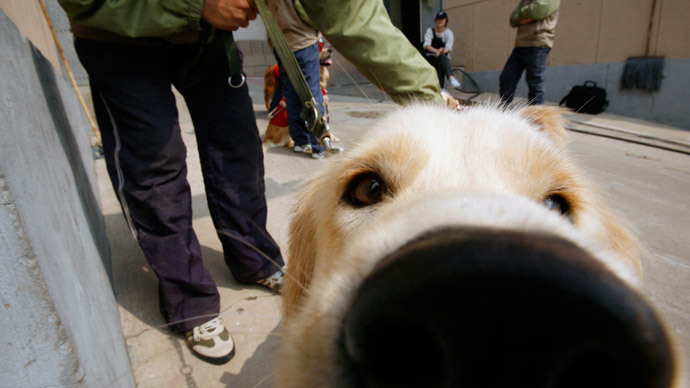 A New York service dog channeled his inner Lassie when he jumped in front of an oncoming mini school bus, protecting his blind owner from serious injury.
Golden retriever Figo and his owner Audrey Stone were walking in Brewster, New York on Monday morning as a mini school bus carrying two kindergarteners drove towards them.
As Stone and Figo crossed the street, the guide dog saw the bus heading towards his blind owner.
Service dog #Figo jumps between blind owner, school bus. Love is love, blind or otherwise http://t.co/Iu7LIqBy1Mpic.twitter.com/2elFvdXAD7

— Shaughn (@Shaughn_A) June 9, 2015
His training and protective instincts kicked in, and Figo threw himself in front of the vehicle, the Lower Hudson Journal-News reported.
The bus struck the dog, leaving fur stuck to the front driver's side wheel and in the middle of the road.
"I don't know if [the driver] thought [Stone] was going to move faster, but it looks like the dog tried to take most of the hit for her," Paul Schwartz, who saw the accident and ran to the scene to help, told the Journal-News. Schwartz thought the dog's name was Bigo.
Service dog throws self in bus' path to protect blind owner http://t.co/OkPf5Bzh83pic.twitter.com/KtZUTgOq85

— WTOP (@WTOP) June 9, 2015
Figo's front right leg was cut to the bone.
Stone was also hit. When Schwartz reached her side, she was bleeding from her head and complaining of hip pain, he said.
"There were 15 EMTs and people all around her, and the dog didn't want to leave her side," Schwartz said. "He was flopping over to her and she didn't want him to get away from her, either. She kept screaming, 'Where's Bigo? Where's Bigo? Where's Bigo?' We kept telling her he was fine."
Even as emergency medics tended to the 62-year-old Stone, one took care of Figo, bandaging his injured leg.
"The dog was being a good sport, really calm," Schwartz said. "He sat with me the whole time. He was limping as we put him on a big blanket on the sidewalk and it started to rain. He let us wrap up his leg without any problem. He wasn't barking or crying or yelping. But he kept pulling toward her. After she was put on a gurney and taken away, he stopped doing that. He seemed a little lost after she left."
Service dog named Figo jumped between his blind owner and oncoming bus: http://t.co/s8JhLrQGXDpic.twitter.com/UMa3sE5UDT

— 13WMAZ News (@13wmaznews) June 9, 2015
Stone suffered a fractured right elbow, three broken ribs, a fractured ankle and a cut to her head in the accident, Brewster Police Chief John Del Gardo told the Journal-News.
"The dog did not want to leave the side of the woman at all…it was the same thing with her, she did not want to leave the dog's side," Del Gardo told WCBS. "She was very, very concerned about the dog. My officers that were there and the Fire Department assured her everything would be fine."
Per regulations, Figo was not allowed to join Stone in the ambulance.
Stone was taken to a Connecticut hospital, while Figo headed to a nearby vet in a fire vehicle, where he had surgery to address the deep gash on his leg.
"Figo is on the mend and doing extremely well," a staffer at Middlebranch Veterinary told the Journal-News. He will remain there "as long as Audrey needs before she takes him home."
In nearby Danbury Hospital, a Brewster police officer updated Stone on Figo's condition. She said that friends are working out the details of taking care of the golden retriever while she recovers, according to Del Gardo.
A service dog threw himself in front of a bus to save his blind owner's life http://t.co/bhADPZw83gpic.twitter.com/MXTSLC0qE5

— Talking Points Memo (@TPM) June 9, 2015
The minibus driver told police he never saw the blind woman and her guide dog as he turned into them in the intersection. He was given a summons for failing to yield to a pedestrian, Del Gardo said, adding that the bus wasn't traveling very fast and stopped without leaving skidmarks in the intersection.
The kindergarteners were uninjured and taken to school in a different vehicle, Steven Moskowitz, Brewster's assistant superintendent for human resources and technology, told the Journal-News.
The driver was taken off duty and sent for routine post-accident drug and alcohol testing, Moskowitz said.
You can share this story on social media: