WA firefighter saves baby hamsters with oxygen-mask, tiny breathing tube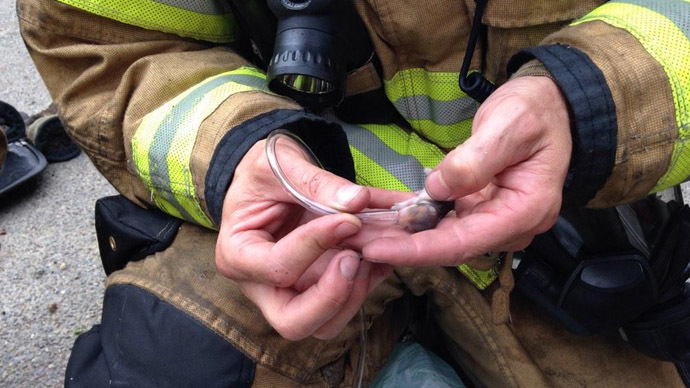 A photo of a Washington State firefighter administering oxygen to a baby hamster with a minuscule makeshift breathing tube has melted hearts on Twitter with its message that no life is too small to save.
The blaze broke out after a clothes dryer caught fire in the laundry room of a mobile home at about 3pm on Friday in the US city of Lacey, located in the northwest of the country, preliminary reports said. At first glance, no residents seemed to be inside.
LFD3 currently working a mobile home fire in the 6800 block of Martin Way. pic.twitter.com/JhZZ1bZLD5

— Lacey Fire (@LaceyFireDist3) September 26, 2014
The woman who lived there had left her home to go to a friend's house, but returned shortly after responding firefighters began fighting the blaze, fire battalion Chief Tim Hulse told KTLA 5 News.
She assured the crew that her children were at school, but the main challenge was to rescue a family of five hamsters.
Fire now out. Family of hamsters rescued and receiving care from our fire fighters. pic.twitter.com/kW0UFyBs8p

— Lacey Fire (@LaceyFireDist3) September 26, 2014
Oreo, Madonna and their three unnamed babies were stuck in a cage in a living room.
"Apparently they were married… The family had made a marriage certificate for Oreo and Madonna. It was pretty cute," Hulse said.
"We have never done anything like that with hamsters, but we had to try," Ryan Fox, a spokesman for the Lacey Fire Department said.
"Oreo", "Madonna" and the baby hamsters being treated with oxygen. LFD3 crews have animal rescue and aid equipment. pic.twitter.com/CFruyYH5PS

— Lacey Fire (@LaceyFireDist3) September 26, 2014
Hulse explained that the firefighters have a whole aid kit that fits dogs and cats.
"We don't have anything that small, but we're pretty good at improvising," he said.
Having consulted with their 'Pet Emergency Pocket Guide', the firefighters used standard, though tiny, tubs to get oxygen to one hamster and placed two others in a plastic bag that was pumped with oxygen.
Yes. Our crews are trained and specially equipped to care for animals that have been rescued from a house fire. pic.twitter.com/Vj2lxP2Ybt

— Lacey Fire (@LaceyFireDist3) September 26, 2014
Thanks to the crew's efforts, most of the rodents survived, although one baby didn't make it.
The touching image of firefighter Eric Bamer saving the life of a baby hamster flooded the internet on Monday.
"We have been getting calls from all around the world to use the photos and to find out what happened," Fox said.