Disabled vet booted from NJ boardwalk for bringing his service dog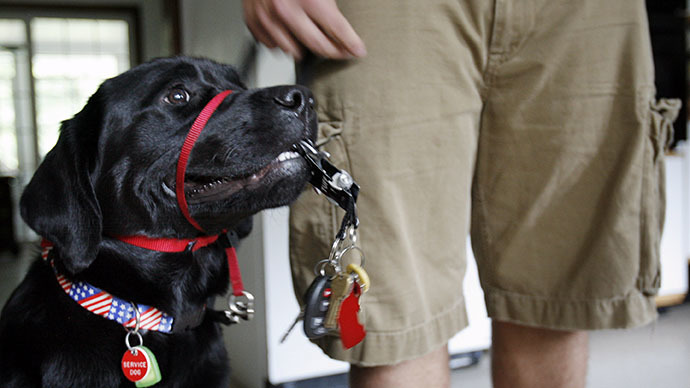 A disabled United States Army veteran says he was kicked off of a New Jersey boardwalk and issued a citation because a local police officer didn't approve of his service dog.
Jared Goering, an Army vet with 19 years of service under his belt including tours of both Afghanistan and Iraq, says the incident occurred Thursday evening while strolling down a boardwalk adjacent to the Atlantic Ocean in Wildwood, NJ.
Goering told a local NBC News affiliate that he couldn't sleep that night because he felt so disrespected by the North Wildwood cop who couldn't fathom why the man required a service dog.
"He mockingly asked if all veterans get service dogs," the solder's wife, Sally Goering, told NBC 40. "His dog is medically necessary and he is a service dog."
"Just like any veteran with disabilities with a service dog, to come back and be harassed and shown no respect, it upset me - it really bothered me. I was up most of the night thinking about it," explained the vet.
According to Mr. Goering, he relies on his 3-year-old dog, Navigator, to walk and get up and down stairs, as well to ease with the post-traumatic stress disorder, severe anxiety and depression that developed after nearly two decades in the military. Goering says he was forced into medical retirement after falling victim to two IED explosions within just 36-hours while serving in Afghanistan.
"His main purpose is mobility but he also helps me with all my emotional problems from combat," he told NBC 40 of Navigator, or Gator for short.
"Before I got my dog, I didn't want to do anything," he added to Tampa, Florida ABC station. "I didn't want to go with my wife anywhere. I didn't like crowds. Then I got my dog and I was able to go out and do that stuff.
The couple told reporters that they were walking the boardwalk last Thursday when a North Wildwood police officer told them that service dogs were only allowed if they were assisting the blind. The family responded by displaying the dog's service identification card, but the officer insisted on booting them from the boardwalk and issuing a citation nevertheless.
"The officer we were talking to didn't want to hear anything of it," he told ABC Action News. "He just wanted us off the boardwalk."
The Americans with Disabilities Act defines service dogs as ones individually trained to do work or perform tasks for people with disabilities, including guiding people who are blind, alerting people who are deaf or, among other functions, calming persons with PTSD during an anxiety attack.
New Jersey state law states, "Any person with a disability accompanied by a service or guide dog trained by a recognized training agency or school is entitled, with his dog, to the full and equal enjoyment, advantages, facilities and privileges of all public facilities." Exemptions only apply when the service animal is not kept in close proximity or causes damage to the premises of a public facility.
"We want the public to be aware that there are different types of disabilities and different types of service dogs - and police officers need to be educated about this," Mrs. Goering said.
North Wildwood Police Chief Matthew Gallagher has since confirmed that an investigation has been opened in order to determine if any action should be taken against the officer involved.
"We've always proudly supported military veterans," Gallagher said.
According to NBC 40, the mayor of North Wildwood will release a formal apology pending the outcome of the investigation.
Last year, a Millville, NJ resident was awarded $12,500 by the WaWa convenience store chain after the business refused to let the customer enter with his service dog, trained to assist his owner during periodic seizures.