Iraq War vet faces 10 years in prison after photographing police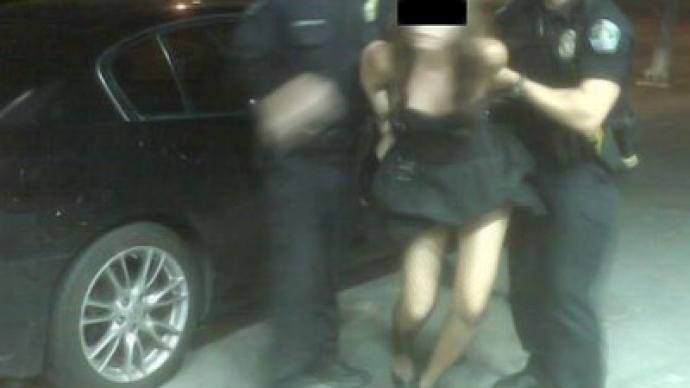 A 34-year-old Iraqi War veteran is facing ten years behind bars after photographing police officers in Austin, Texas that he says were mistreating a woman during a routine arrest on New Year's Eve.
Antonio Buehler was pumping gas on December 31, 2011 when he witnessed officers with the Austin Police Department attempt to detain a woman under suspicion of driving under the influence of alcohol at a fueling station. By the end of the evening, though, Buehler also found himself being apprehended by authorities."I saw a woman getting assaulted by the police. It looked like police abuse, and I decided to speak up and take pictures. I think that is every person's right," Buehler told Austin's KVUE News earlier this year.The authorities, however, see things differently. According to the officers, Buehler was interfering with their investigation. Buehler says he was simply exercising his First Amendment rights from afar, but the police department begs to differ. Buehler was "in my face," Officer Pat Oborski writes in the official police report. The officer also claims that Buehler spit at him, an allegation that Buehler rejects."The officer kind of put his hand on his shoulder and tried to back him up and at that time was when Buehler spit in the face of Officer Oborski," Corp. Anthony Hipolito, an APD spokesman, told KVUE News earlier this year. "At that time he was placed under arrest for harassment of a public servant which is a third degree felony."When all was said and done on January 1, Buehler was released from a holding cell after 16 hours behind bars. In the six months since the incident, the defendant has been trying to get to the bottom of things. Unfortunately for him, however, it's been a fight that Austin officials have seemingly been all too unwilling to help with — a late January complained filed with the Austin internal affairs department was essentially ignored, and a letter he received last week informs him that he is forbidden to "view, possess or receive copies of the Internal Affairs Division's investigation," forcing him to face his felony charge hearing without little for him or his attorney to work with.By taking his plight to the Internet, Buehler was able to find a witness that had recorded footage that evening from their cell phone that shows Officer Oborski pinning Buehler against a truck — and not the defendant approaching the police, as described in the department's report. "I would not get involved in police action," Buehler tells KVUE, "unless they were doing something heinous such as man-handling a woman who was no threat to them. There are two criminals on the loose; they are looking to get into fights. They wear blue, are armed and wear badges,"Buehler will take his case to the Austin Citizen Review Panel next month, who can then make a recommendation regarding the charges to the police department. If the current charges remain, however, Buehler faces a maximum of ten years behind bars for the alleged felony. Last week Buehler introduced a petition to the Web asking for an investigation aimed at the Austin Police Department and has so far garnered over 1,600 signatures."These cops assaulted a woman who had committed no crime, and then levied three false charges against her. Antonio Buehler committed no crime, and that they then levied two false charges against him, one being a felony that carries a sentence of 2-10 years in prison that this cop deliberately lied in his affidavit to destroy Antonio Buehler life for not kissing his ass," reads a plea on the petition page.As Buehler awaits his hearing, he has also created a project to help other citizens protect themselves from police injustice. Through his Peaceful Street project, Buehler hopes to hand out more than 100 video cameras to Austin residents so they can keep an eye on the police."We want to encourage people to take their liberty and security in their own hands," he tells Pixiq.com.
You can share this story on social media: