'Shame!': Education Secretary DeVos blocked by protesters in first school visit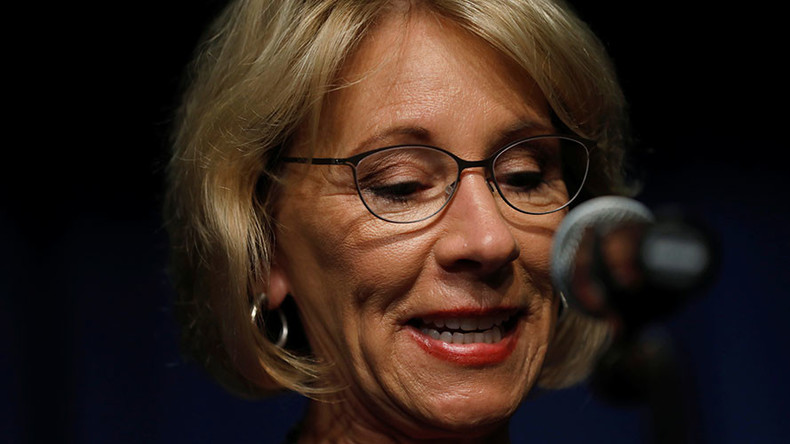 Education Secretary Betsy DeVos had to be escorted away from a public school when protesters physically obstructed the entrance. The controversial reformer eventually made it inside, and also heard from members of the teachers' union.
Devos' first official visit to a public school since narrowly being confirmed as the new secretary of the US Department of Education indicated that she might be the most divisive figure in President Donald Trump's Cabinet.
"She does not represent anything that they stand for!" one protester yelled while using her arms and body to block a stairway to Jefferson Middle School Academy in the District of Columbia on Friday morning.
Another demonstrator badgered Devos as she walked away with her security detail.
"Keep giving money to senators and buying your way into the position," he said, adding, "You should be so proud of yourself!" before breaking out into a chant of "Shame! Shame!"
The Washington Teachers Union, while not taking part in blocking DeVos' visit, did show their opposition to her agenda. One teacher held a sign saying, "Ms. DeVos: Our children are not props,"according to the Washington Post. Others took the time to express to the secretary their disagreements, while wishing her success in giving all students an equal opportunity to free public education.
WJLA's Tim Barber reported that DC Police arrested a male protester for assault on an officer, and that police were investigating allegations that DeVos was also assaulted.
Inside the school, DeVos toured classrooms and met with the school's teachers and principal as well as the district's chancellor.
READ MORE: #HoldTheFloor: Democrats stage desperate 24hr filibuster against Trump Ed Sec pick DeVos
"Focusing on their students and families is at the heart of Jefferson Academy's approach, and that's exactly what I believe is at the heart of providing an exceptional education," DeVos said in a statement. "Great teachers and leaders help make great schools, and I was honored to speak with Jefferson's team about our shared commitment to strengthening public education."
In response to the protest, she said: "I respect peaceful protest, and I will not be deterred in executing the vital mission of the Department of Education. No school door in America will be blocked from those seeking to help our nation's school children."
You can share this story on social media: