#Windmagedon grounds more than 2,000 flights as 'life & death' cyclone arrives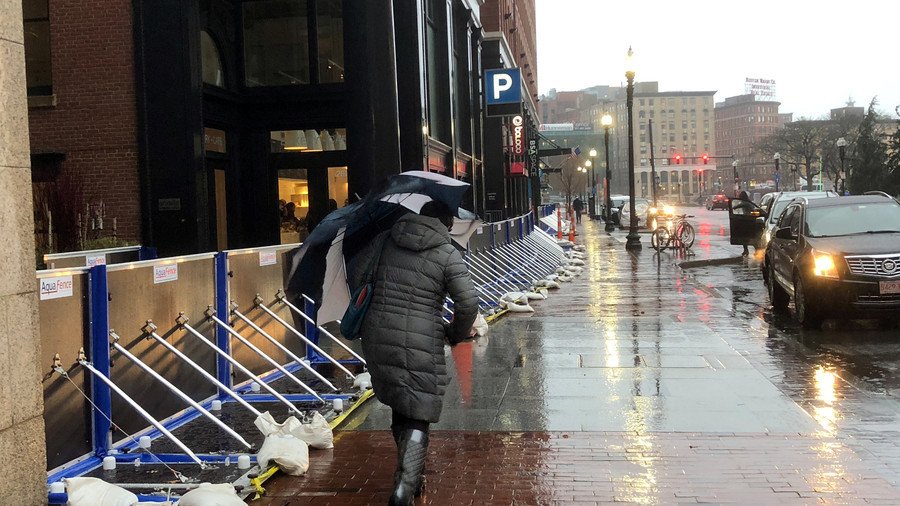 More than 2,130 flights have been cancelled nationwide as the powerful nor'easter cyclone made landfall – bringing with it severe wind, snow and rain. A further 550 flights have been delayed, reports FlyAware.
Most airlines are waiving the fees for flyers forced to change their arrangements as airports all across the Northeast shut down. Wind gusts in DC reached up to 70mph (112kph) and are expected to last into Saturday, compelling some surrounding airports to ground nearly 50 weekend flights.
READ MORE: Watch the sea freeze as 'Beast from the East' batters the UK (VIDEO)
Conditions for those who did manage to make it into the air were less than ideal. A pilot who landed a plane at Dulles Airport Friday morning reported that "pretty much everyone on the plane threw up" as the flight was "very bumpy on descent," which was caused by extreme turbulence. "[Even] pilots were on the verge of throwing up," read the pilot's flight report published on the Aviation Weather Center.
READ MORE: Italy sends in army to combat Siberian 'beast from the east' (PHOTOS, VIDEOS)
The storm was described as a "life and death situation" by Boston's National Weather Service who took to Twitter to warn locals of the severity of the cyclone. Some 80 million Americans are expected to feel the storm's cool breeze, and it appears the usual urge for bread, water and survival supplies has started to set in.
The effects of the storm are also being felt on the ground as more than half a million Americans are left without power, according to AccuWeather. Locals have started sharing images of toppled trees, flooded streets and other damage caused by the cyclone.
You can share this story on social media: