Watch the sea freeze as 'Beast from the East' batters the UK (VIDEO)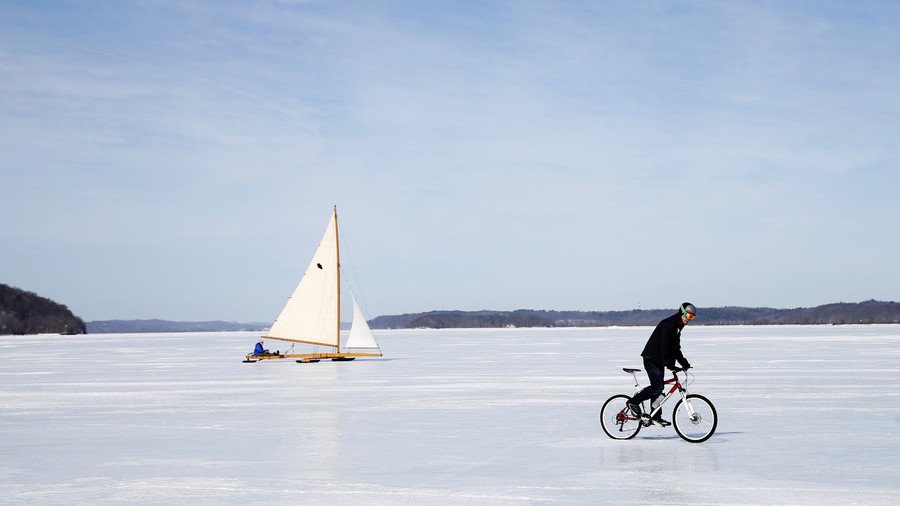 It's so cold in Somerset that the sea is starting to freeze over. Shocking footage of the icy tide has been shared on social media, showing little waves lapping on the sand before freezing solid.
The video, captured at Weston-super-Mare, Somerset, has been viewed more than 800,000 times. It was uploaded to social media on Monday. The freezing tide was also captured a few miles down the Coast, at Burnham-On-Sea.
Meteorologists say that a sea freeze is unusual. "On the margins of the sea, where the water is very shallow and has lower salinity, it can freeze under sustained sub-zero temperatures. It's been quite a number of years since we last saw this sort of phenomenon on Bristol Channel coasts," Royal Meteorological Society Fellow Ian Fergusson told the BBC.
Cold and icy weather, pushed towards the UK from Russia by the 'Beast from the East' will continue to cause snow, wind, and icy temperatures on Friday. Weather experts hope that the mercury will start to rise on Saturday, with rain expected.
The Met Office's chief forecaster said: "A weather system is expected to move slowly north through Thursday into Friday and has potential to produce widespread snow, accompanied by strong to gale force winds. As less cold air follows from the south, there is a small chance of snow turning to freezing rain bringing an additional ice risk. There is still uncertainty in how this system will develop, but there is a small chance of the combined effects of snow, strong winds and ice leading to severe impacts."
Most of the UK is currently under a yellow weather warning, due to the snow and ice across the country. As the weekend progresses, the Met predicts that the yellow warning will be rolled back, with hazardous conditions expected to remain only in parts of Scotland by Sunday - so make sure you de-ice your windscreen if you're hitting the road, folks.
Like this story? Share it with a friend!
You can share this story on social media: