Italy sends in army to combat Siberian 'beast from the east' (PHOTOS, VIDEOS)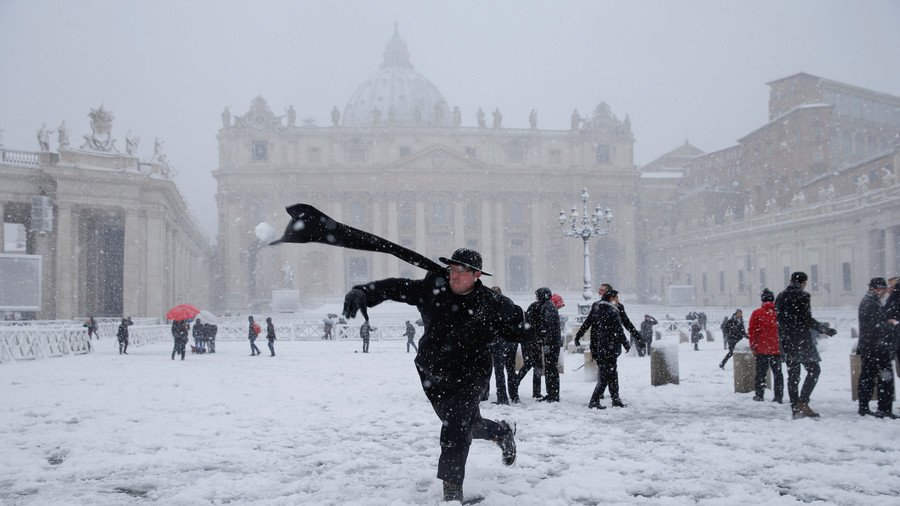 Italy's civil protection agency has sent the army to clear the streets of Rome following the first snowfall in six years. The move comes amid an Arctic blast which has claimed at least four lives across Europe.
Part of Rome experienced snow falls of up to 5cm (2 inches) after temperatures fell as low as zero degrees Celcius (32F) Monday, and are expected to drop as low as minus six by Wednesday reports The Local. Several of the city's most iconic attractions, including the Colosseum and Roman Forum, were closed Monday. The civil protection agency's volunteer corps was also sent to assist stranded commuters at the city's railway stations.
READ MORE: 'Arctic invasion': Huge winter storm, freezing rain wreaks havoc in Moscow (PHOTOS)
Air, road and rail transport were all affected, with delays of up to two hours affecting commuters and tourists alike. Authorities in Rome opened several train stations to the city's homeless population to provide temporary emergency shelter from the cold, a move which Italian Prime Minister Paolo Gentiloni praised online.
While residents of eastern Europe or Moscow might balk at such moderate winter temperatures causing so much chaos, Rome was almost paralyzed by just a few inches of snow. The city's proximity to the sea usually protects it from snowfall and the Mediterranean climate generally brings milder winters to the capital than its northern European counterparts.
Rome Mayor Virginia Raggi ordered public schools to close temporarily until the 'blizzard' passes. Northern and central Italy are more acclimatized to snow but schools in those areas were also forced to close as temperatures plunged.
Massive snowball fights took place across the city while the iconic Bernini fountains were covered in a powdery layer. Siberian winds have been blamed as the source of the cold snap affecting large swathes of Europe.
Temperatures in Bucharest, Romania fell as low minus eight degrees Celsius Monday, with the General Inspectorate for Emergency Situations calling in 5,000 officials to help people adversely affected by the cold snap. Neighboring Bulgaria experienced snowdrifts of as much as 40cm (16 inches) in some parts.
Meanwhile, in Germany, certain parts have reported record low temperatures of minus 27 degrees Celsius (minus 16.6F). Croatia has also deployed up to 1,000 troops to clear snow in the worst-affected areas which have been ground to a halt by up to 1.5 meters (5ft) of snow, reports The State.
Think your friends would be interested? Share this story!
You can share this story on social media: