Extraordinary storm systems visible in 'bomb' cyclone's eye (VIDEO)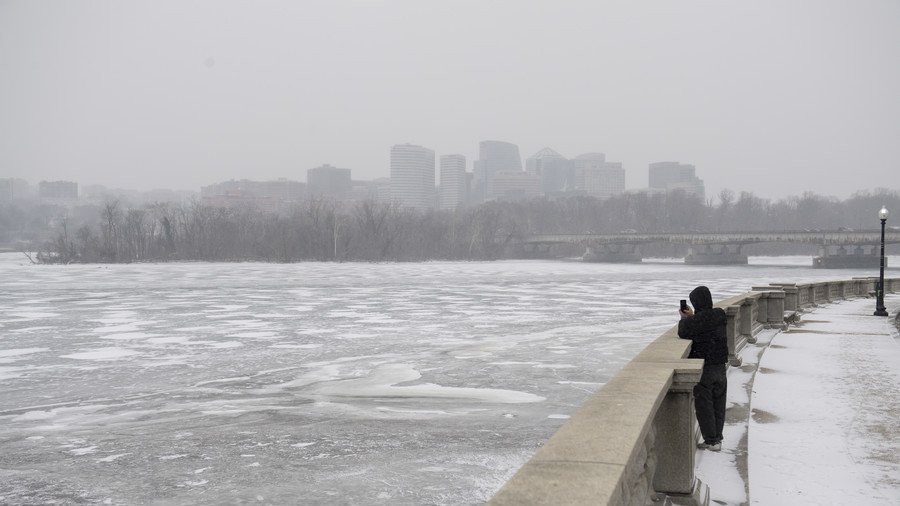 Weather satellites have captured astonishing footage of the polar cyclone dumping snow and causing travel chaos across the US east coast.
The footage, captured by the National Oceanic and Atmospheric Administration (NOAA) and posted to the Twitter feed of NASA's weather-monitoring arm, shows the eye of the storm surrounded by multiple rotational features known as 'mesovortices.'
READ MORE: 'Bomb' cyclone set to blast US with record-breaking winter storm (IMAGES)
Mesovortices have a wind speed 10 percent higher than a storm's eye wall and exhibit unusual behavior in cyclones, rotating around the low pressure center but also sometimes remaining stationary. The erratic movement of the mesovortices in the NOAA footage leaves the cyclone almost without a definitive center.
South and northeast areas of the US such as New York and New England were hit hardest by the so-called 'bomb' cyclone Thursday. Meteorologists believe it could be the most severe winter storm to hit the area in decades. Already in the grip of a cold snap, the US has seen century-old temperature records broken with historic lows in many areas.
READ MORE: Brutal winter storm smacks coastal Southeast, now threatens Northeast
The winter storm has also brought snow to parts of Florida, Georgia and South Carolina for the first time in 30 years. The extreme weather has sparked travel chaos across the US with the cancellation of around 2,700 flights, according to Flightaware.com.
You can share this story on social media: