Brutal winter storm smacks coastal Southeast, now threatens Northeast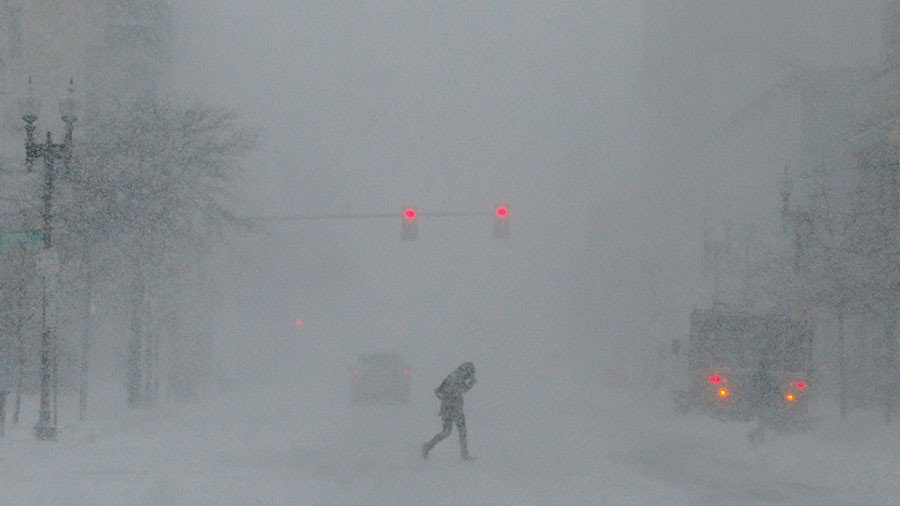 A winter storm is wreaking havoc in the Southeast US, as parts of Florida, Georgia and South Carolina get their heaviest snowfall in nearly 30 years. Forecasters say the "bomb cyclone" is likely to intensify.
A Winter Storm Warning extends from the Gulf coast of Florida's "Big Bend" region all the way up the Atlantic coast. Forecasters say hurricane-force winds that are blowing offshore could generate 24-foot (7-meter) waves on Thursday, according to the Associated Press.
READ MORE: 'Bomb' cyclone set to blast US with record-breaking winter storm (IMAGES)
Across the Georgia-South Carolina state line in the city of Charleston, there has been five inches of snow accumulation reported, the most snow recorded in the city since 1989. Airports in Charleston, in Savannah, Georgia and elsewhere have cancelled a total of 500 flights and at least 1,700 additional flights will be cancelled on Thursday.
Georgia Governor Nathan Deal (R) has also declared a state of emergency through Friday for 28 counties in the state.
Tallahassee, Tennessee, saw only 0.1 inches (2,54mm) of snow, according to the National Weather Service (NWS). However, this is the most snowfall the city has seen in 28 years.
The NWS said the winter storm affecting the Southeast may intensify into a "bomb cyclone," also known as a "bombogenesis" storm, that could dump more than eight inches of snow on the Boston area come Thursday, and at least six inches in the region of New York City, according to the AP.
The bombogenesis will also bring with it 40-60 mph gusts in the New England area on Thursday, CNN reported.
READ MORE: 'Frozen America': 92% of country below freezing
A storm is considered a bomb when it drops 24 millibars of pressure in 24 hours. This particular storm looks as if it will intensify at twice that rate as it moves up the to the Northeast region of the US, according to Bob Oravec, the lead forecaster at the National Weather Service's Weather Prediction Center, the AP reported.
The impending storm has prompted more than 2,700 preemptive US flight cancellations for Thursday, Flightaware.com reported.
And at New Hampshire's Mount Washington Observatory, the temperature will drop to a dangerous -35 degrees Fahrenheit on Friday night into Saturday, weather observer Taylor Reagan said as CNN reported.
You can share this story on social media: