Nearly 100,000 without power as snow, sleet & strong winds lash Northeast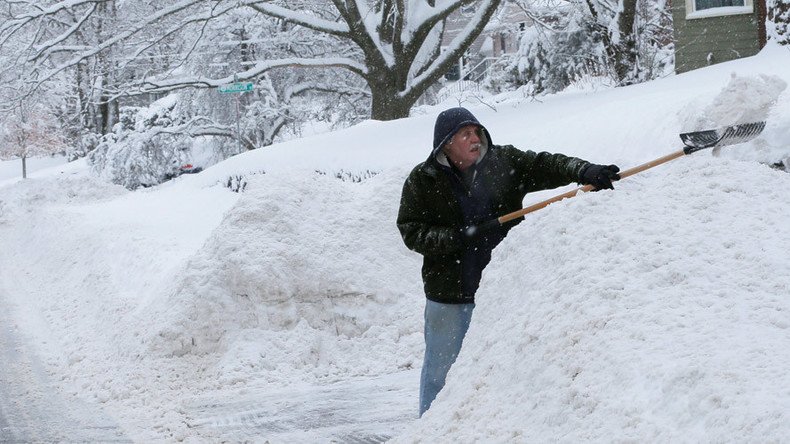 A powerful nor'easter grounded more than 5,000 flights, leaving travelers stranded at JFK airport in New York, and took out the power of 100,000 customers as blizzard warnings were issued for nine states when it dropped more than a foot of snow in some places.
Dominion Power reported more than 50,000 customers without power in Virginia, with 40,000 of those outages in the Richmond area. Maryland reported 30,000 customers without power, as were customers in Delaware, New Jersey and around Philadelphia, according to AP.
Blizzard warnings were issued for parts of Pennsylvania, New Jersey, New York, Connecticut, Rhode Island, Massachusetts, New Hampshire, Maine and Vermont.
Snowscapes peppered Twitter with the hashtag #stellablizzard – referring to the Winter Storm Stella name assigned to the blizzard – from people's backyards in Pennsylvania and New Jersey to snowball fights at the 'Crossroads of the World' in New York's Times Square.
The National Weather Service cancelled its blizzard warning for the metropolitan New York City area on Tuesday morning but a winter weather advisory is in effect for the region until 8pm. The new forecast was for between 4 to 8in and 6 to 8in in southern Westchester Country. New York Schools were closed, overland subways were closed and Metro North, a major commuter hug, was closing at 12 noon. Drivers were advised to stay off the roads.
Meteorologist Joe Pollina said the storm tracked closer to the coast than expected. That introduced warmer air into the region, changing the snow into a "wintry mix" in the metropolitan area.

"The storm actually has shifted, it shifted west," New York Governor Andrew Cuomo told 'CBS This Morning.' "There's less snowfall in New York City, there's less snowfall on Long Island. There's actually more in the Hudson Valley and western part of the state."
Cuomo declared a state of emergency Tuesday for all of New York's 62 counties, including New York City's five boroughs. The Democrat also directed non-essential state employees to stay home from work.
The heaviest snowfall was expected Tuesday morning and then changed to sleet, then rain by midday and back to snow in the evening.
On Twitter earlier Tuesday morning, Cuomo said, "There is no reason to be on the roads. It's dangerous."
Schools were closed in Philadelphia and Boston.
The National Guard, Pennsylvania state troopers and state transportation department vehicles all overcame heavy snow conditions Tuesday, in order to escort a young toddler set to receive a heart transplant, according to WCAU, an NBC affiliate in Philadelphia. The 23-month-old took the 80-mile trip from East Stroudsburg to Danville, in the middle of the state's east side, where more than 20 inches of snow and sleet had fallen, the station reported.
In Massachusetts, where the forecast called for 12 to 18in of snow, Gov. Charlie Baker encouraged motorists to stay off the roads and to take public transit only if absolutely necessary, saying the fast snowfall rates would make driving hazardous.
In Washington, DC, a mix of snow, sleet and freezing rain delayed school and work. Officials were urging people to stay off the roads Tuesday while crews clear them. Public Schools were opening two hours later. Federal workers reported three hours late and city government offices opening two hours late.
The nor'easter comes a week after the region saw temperatures climb into the 60s.
Spring officially starts on March 20.
You can share this story on social media: