Trump's expanded travel ban goes into full effect – State Department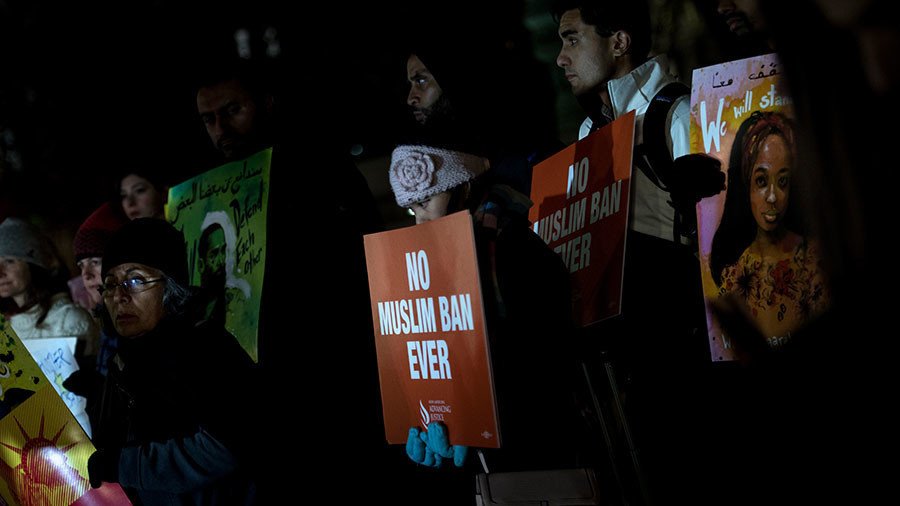 The US State Department announced that it is fully implementing President Donald Trump's controversial travel ban following the Supreme Court's decision to overrule injunctions against it.
"National security is our top priority in visa operations. Our embassies and consulates around the world are fully implementing Presidential Proclamation 9645 to protect the American people, now that US Supreme Court orders permit us to do that," the State Department said in a statement Friday.
Formally known as Presidential Proclamation 9645 (Enhancing Vetting Capabilities and Processes for Detecting Attempted Entry into the United States by Terrorists or other Public-Safety Threats), the order bars nationals of Chad, Iran, Libya, North Korea, Syria, Somalia, Yemen, and Venezuelan officials and their family members, from entering the US.
Visas already issued will not be revoked and the restrictions can be lifted if countries comply with the standards set by the US on "terrorist attacks, transnational crime, and immigration fraud."
"The restrictions are conditional and may be lifted as countries work with the US government to ensure the safety of Americans," the State Department said. "Most countries in the world now meet the new requirements, which is an important element of ensuring our security."
While there have been almost no terrorist attacks from any of the countries included in the ban, the US and its allies have sought to, or have successfully overthrown the governments of almost all of the seven countries listed.
The Supreme Court ruled Monday to allow Trump's travel ban, rolling back lower court rulings that restricted enforcement based on "bona fide relationships" with US persons or businesses. Such exempt relationships had included grandchildren, grandparents, nieces, nephews and cousins of US citizens or permanent residents.
The nine justices will hear arguments for and against the current version of the travel ban sometime next year. Meanwhile, challenges are making their way through the Richmond-based 4th Circuit and the San Francisco-based 9th Circuit Court of Appeals. On Friday, thirteen judges on the 4th Circuit Court of Appeals heard arguments to reverse an October decision by a Maryland judge, who ruled against enforcing the ban.
President Trump lifted a temporary ban on most refugee admissions late in October. And while the measure was expected to increase the number of people fleeing persecution and violence to come to the United States, the opposite has happened. Since the ban was lifted 5 weeks ago, 40 percent fewer people were allowed in than in the ban's final 5 weeks, Reuters reported.
You can share this story on social media: