Grandkids, cousins among relatives exempt from Trump travel ban – US appeals court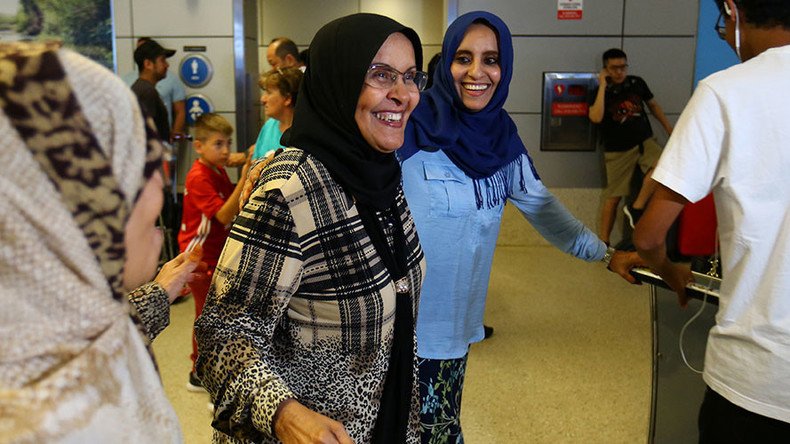 A US appeals court has ruled that President Donald Trump's travel ban on six Muslim-majority countries will not be enforced against grandparents and other relatives of US persons, previously limited to immediate family members. The US Justice Department will appeal the decision.
The unanimous decision on Thursday by a three-judge panel of the 9th US Circuit Court of Appeals upheld a previous ruling by a federal district judge in Hawaii, according to the Associated Press.
READ MORE: Civil groups sue State Department for refusing to process visas of lottery winners
"Stated simply, the government does not offer a persuasive explanation for why a mother-in-law is clearly a bona fide relationship, in the Supreme Court's prior reasoning, but a grandparent, grandchild, aunt, uncle, niece, nephew, or cousin is not," the ruling reportedly said.
READ MORE: US Supreme Court allows grandparents as family relationship under travel ban
The travel ban, which covers Iran, Libya, Somalia, Sudan, Syria and Yemen, is being challenged by the state of Hawaii, and is also before the US Supreme Court, which in June allowed its enforcement until the high court hears the case scheduled for October.
The Thursday ruling expands the definition of a "bona fide relationship," so while enforcement of the executive order will continue, more exemptions may be recognized. Aside from familial relationships, some business relationships are also valid under the 90-day travel ban.
The 9th Circuit also upheld the district judge's ruling that refugees from the six countries who have already been accepted by resettlement agencies may come to the US.
"The Supreme Court has stepped in to correct these lower courts before, and we will now return to the Supreme Court to vindicate the executive branch's duty to protect the nation," a US Justice Department spokesperson told The Hill on Thursday.
READ MORE: TSA to enact stricter electronic screenings at all US airports
You can share this story on social media: