Multiple huge fires rip through SoCal, forcing highway closures & mass evacuations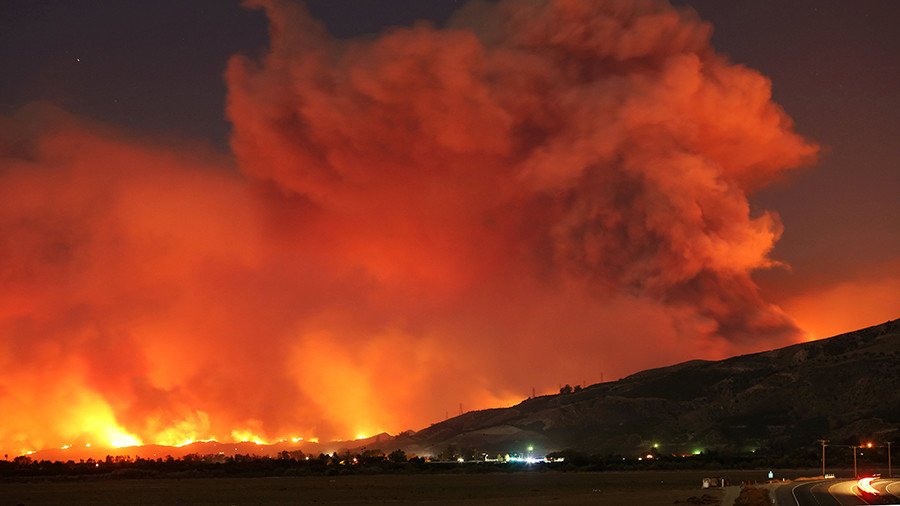 Fires in Southern California continue to ravage the region overnight, shutting down the Interstate 5 highway. Hundreds of firefighters have responded to three massive fires threatening homes, structures and livestock.
The Thomas, Creek, and Rye Fires are wreaking havoc in Southern California, as authorities and firefighters scramble to contain the rapidly moving blazes.
THOMAS FIRE
The Thomas Fire, which started at around 6:30pm Monday, is considered a wildfire, and was the first of the three fires to ignite. Located 60 miles northwest of Los Angeles in Ventura County, that fire spread from 500 acres Monday night to 50,000 acres the following morning.
Some 1,000 personnel are now battling the blaze, and 27,000 people have been forced to evacuate the area. Some 150 structures were destroyed, KTLA reported. It prompted California Governor Jerry Brown (D) to declare a state of emergency in Ventura County Tuesday.
READ MORE: Thousands evacuated as #ThomasFire blazes across southern California (PHOTOS, VIDEOS)
CREEK FIRE
The Creek Fire was the second blaze to erupt and is also considered a wildfire. It started at 4am Tuesday and rapidly spread in the foothills of the Angeles National Forest, located above the neighborhood of Sylmar in San Fernando Valley. It has destroyed 11 homes and injured two firefighters, KTLA reported.
Los Angeles Mayor Eric Garcetti declared a state of emergency for the city in response to the Creek Fire late Tuesday. Garcetti noted there are about 800 firefighters battling the fire in Los Angeles, and there have been no fatalities yet.
The National Weather Service (NWS) issued a Red Flag warning for much of both Los Angeles and Ventura counties through Friday.
A Red Flag warning is issued when the NWS wants "to alert fire departments of the onset, or possible onset, of critical weather and dry conditions that could lead to rapid or dramatic increases in wildfire activity," according to the CalFire website.
More than 20 square miles of residential property were reported as being evacuated. The inferno has scorched more than 11,000 acres since it began, as it also jumped the nearby Interstate 210 freeway, forcing its closure. The fire is likely to keep spreading due to strong wind gusts in the area, authorities said, KTLA reported.
Los Angeles Fire Department Chief Ralph Terrazas said he expects to find more homes destroyed when the smoke from the fire clears, according to the Los Angeles Times.
RYE FIRE
Also on Tuesday, a fast-moving 2-alarm brush fire, dubbed the Rye Fire, led to the closure of a portion of the Interstate 5 highway. The fire is burning in Santa Clarita, about 30 miles north of Los Angeles, according to KABC.
The Rye Fire started at about 9:30am Tuesday and has burned through 5,000 acres. Only 5 percent of the flames have been contained so far, according to fire officials, KABC reported.
Firefighters are at the scene. Authorities say no structures were immediately threatened, but evacuations were later ordered in an area of Santa Clarita, KABC reported.
The destructive fires in Southern California come just two months after wildfires broke out in Northern California's wine country, killing a total of 44 people. The widespread blazes also led to the destruction of 8,900 houses and other buildings.
READ MORE: California wildfires cost state over $1bn – insurance commissioner
You can share this story on social media: