Apocalyptic inferno cloaks Disneyland in spooky haze as California fire rages (PHOTOS, VIDEOS)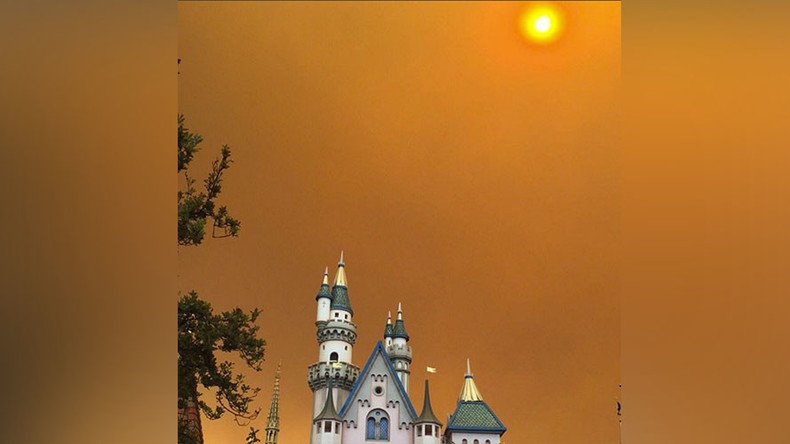 A wildfire raging in southern California has shrouded Disneyland in an apocalyptic-looking orange haze. Visitors to the park flooded social media with pictures of its landmarks against the eerie backdrop.
The theme park is decked out with Halloween decorations, adding another layer of spookiness to the scene. Social media users reported ash and smoke falling in the park.
Disneyland's social media channels and website indicated, however, that there were no changes to the operation of the park and all of the amusements remained open.
Other than the epic photo backdrop, the theme park has not yet been affected by the brushfire. However, around 13 miles (20km) away in Anaheim Hills approximately 1,000 homes have been evacuated due to the blaze.
The fire, which has been dubbed Canyon Fire 2, was first reported before 10:00 PST Monday.
The cause of the blaze is not yet known, however, it started in the same area as the first Canyon Fire at the Anaheim-Corona border last month.
Meanwhile, fires are also raging in northern California's wine country, which is around 430 miles 700km (430 miles) north of Anaheim.
READ MORE: 'Armageddon': 10 dead as wildfires engulf 50k acres in California's wine country (VIDEO)
At least 1,500 homes were destroyed as over two dozen wildfires spread through the area on Monday. Authorities said that at least 10 people have been killed and thousands have fled the area.
You can share this story on social media: