Thousands evacuated as #ThomasFire blazes across southern California (PHOTOS, VIDEOS)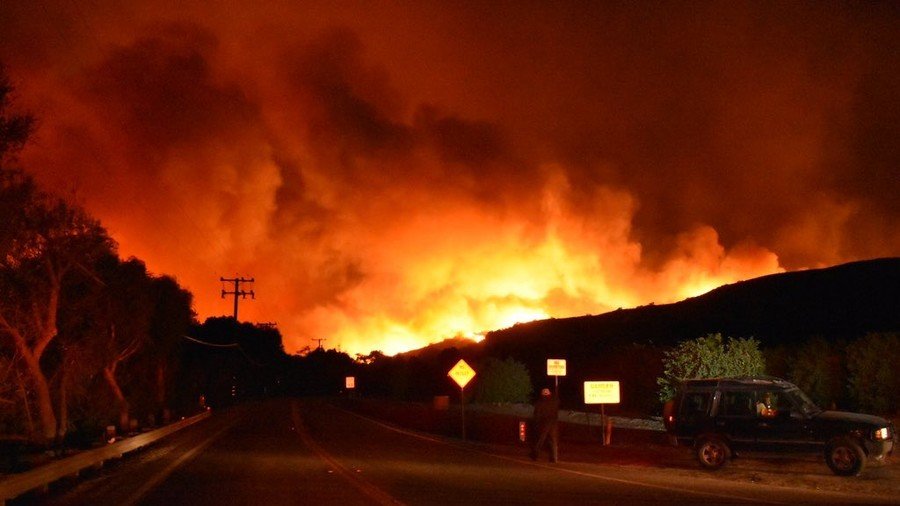 Firefighters are battling a huge wildfire in southern California that has already burned nearly 10,000 acres and forced the evacuation of thousands in the cities of Santa Paula and Ventura.
The blaze broke out on Monday in area of about 50 acres, but strong winds have fueled the fire which has spread fast, forcing people from their homes and causing widespread power outages. At least one person has been confirmed dead as a result of a car crash when fleeing from the fire.
High winds initially pushed the brush fire, known as the Thomas Fire, towards Santa Paula, a city of around 30,000 residents about 60 miles northwest of Los Angeles. More than 800 homes were evacuated there.
However, the rapid spread of the blaze, the cause of which is not yet known, means that the city of Ventura, home to over 100,000 people, will soon feel its effects. Evacuation orders are in place for at least 1,000 homes in the east of the city.
"The prospects for containment are not good," Ventura County Fire Chief Mark Lorenzen said. "Really mother nature is going to decide when we have the ability to put it out because it is pushing hard." Lorenzen added that all firefighters can do at this stage is try and get ahead of the fire and protect structures.
Further to the homes, the Santa Paula Unified School District announced Monday night that all schools in the city will be closed on Tuesday due to the blaze. Thomas Aquinas College, which about 350 students attend, has also been evacuated.
Firefighters have mounted an aggressive strategy to tackle the blaze, with aircraft and additional emergency services being drafted in from neighbouring cities. Their efforts were hampered by darkness and winds which forced aircraft to be grounded on Monday night.
You can share this story on social media: