'Horror & devastation': California wildfires death toll reaches 40 (VIDEOS)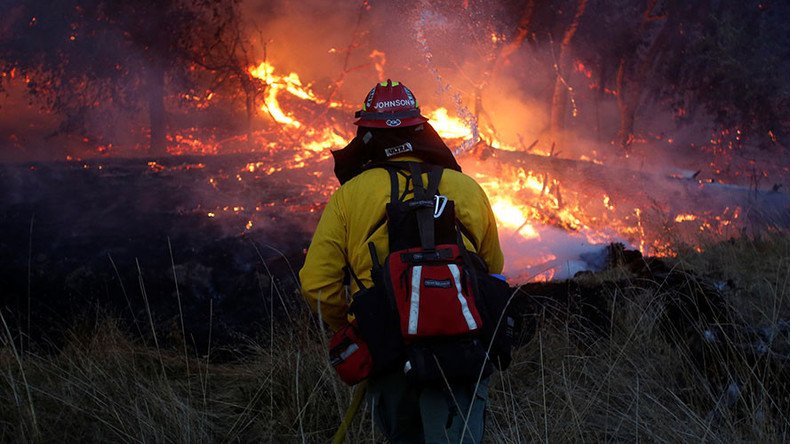 The death toll in Northern California wildfires has risen to 40 people, making them the deadliest in the state's history. Hundreds more people remain missing as thousands of firefighters continue to battle the blazes across the state.
On Saturday, Sonoma County coroner's office reported that two more people had perished in fires which are raging just north of San Francisco. Overall the 16 ongoing fires across Northern California claimed the lives of 40 people, with hundreds more still officially missing.
More than 10,000 firefighters, sent from all over the country, are making slow progress in fighting the deadliest blazes in state's history. Cal Fire reported that aircraft dropped more than 2 million gallons of "retardant" on fires since Monday.
"The devastation is just unbelievable. It is a horror that no one could have imagined," California Governor Jerry Brown said on a visit to Santa Rosa. "This is truly one of the greatest tragedies that California has ever faced."
'Gotta get out!' Dramatic bodycam video shows N. California officer saving people from fiery trap
Despite the effort, firefighters are finding it extremely difficult to contain the infernos, according to the latest statistics. As of 8pm Saturday, the Nuns Fire between Sonoma and Santa Rosa is only 15 percent contained, the Tubbs Fire between Calistoga and Santa Rosa is 50 percent contained, while the Atlas Fire in eastern Napa County is 48 percent contained. Another 13 inferno pockets continue to terrorize California residents as far north as Butte, Lake, Mendocino and Yuba counties.
Progress, however, was made in the Cascade Fire, which has been roughly 87 percent contained on Saturday, Cal Fire said. Mandatory evacuation orders were also lifted in Solano County.
Overall the fires consumed nearly 214,000 acres (86,000 hectares) in seven days of intense activity, forcing some 100,000 people out of their homes, Reuters reports. Around 3,000 were evacuated on Saturday from the city of Santa Rosa. Roughly 5,700 structures were reduced to ash.
The National Weather Service extended the red flag warning for Northern California to 8am Sunday, warning of wildland fire combustion and rapid spread conditions. Wildfires began tearing through the north of the state on October 8.
You can share this story on social media: