US & South Korea discuss 'military response' to North Korean missile test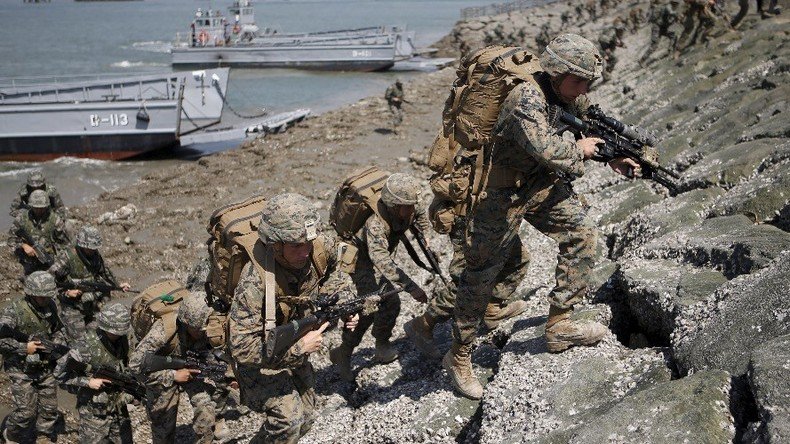 Top US and South Korean military officials discussed "military options" in response to North Korea's latest test of what the Pentagon called an intercontinental ballistic missile. South Korea has requested additional missile defense units from the US.
READ MORE: North Korea believed to have conducted new missile test
Following Friday's launch, Marine General Joseph Dunford, chairman of the US Joint Chiefs of Staff, and head of the US Pacific Command Admiral Harry Harris called General Lee Sun-jin, chairman of the South Korean Joint Chiefs of Staff.
"During the call, Dunford and Harris expressed the ironclad commitment to the US - Republic of Korea alliance. The three leaders also discussed military response options," said a statement from the Pacific Command, confirmed to Reuters by Dunford's spokesman Captain Greg Hicks.
US and South Korean militaries staged a "joint ballistic missile exercise" in response to the North Korean launch.
A statement by US military said the missiles were fired into "territorial waters of South Korea along the East Coast," Reuters reported.
The missile originated from Mupyong-ni, a weapons facility in the North Korean province of Jangang, around 11:40 pm local time Friday, the Pentagon said. According to Pentagon, it traveled for about 620 miles (997 km) before splashing down into the Sea of Japan.
The missile is believed to be the Hwasong-14, also known as the KN-20. Both North Korea and the US have described it as an ICBM, while the Russian military has described it as an intermediate-range (IRBM) weapon.
The Russian military said that the missile reached the height of 681 kilometers and traveled for 732 kilometers, adding that that it didn't present any direct threat to Russia, as it was fired in a different direction.
"The North American Aerospace Defence Command (NORAD) determined the missile launch from North Korea did not pose a threat to North America," said Pentagon spokesman Captain Jeff Davis.
Japanese officials said the missile flew for 45 minutes and reached an altitude of more than 1,860 miles (nearly 3,000 km).
"As a result of their launches of ICBM-level missiles, this clearly shows the threat to our nation's safety is severe and real," Japanese Prime Minister Shinzo Abe said in a statement, adding that he would be convening Japan's National Security Council.
Pyongyang has claimed that it test-fired an ICBM on Friday night, which covered a distance of 998km in 47 minutes at an altitude of 3,724km before landing into the sea, KCNA reports
United Nations Secretary-General Antonio Guterres condemned North Korea's launch of a "ballistic missile of possible intercontinental range," his spokesman said on Friday.
South Korean President Moon Jae-in has requested renewed talks with the US on deploying additional Terminal High Altitude Area Defense (THAAD) missile defense systems, his office announced.
Moon was sworn into office in May, having triumphed in a snap election after his predecessor, Park Geun-hye, was impeached on corruption charges. He initially criticized the previous government's decision to host THAAD systems and announced he would delay additional deployments until environmental concerns were addressed.
Before the July 4 test of the KN-20, US intelligence believed that North Korea wouldn't have long-range strike capability for four more years. New intelligence estimates, however, suggest the ICBM might have have the range to hit the West Coast of the US, and not just Alaska and Hawaii, the Washington Free Beacon reported Wednesday.
"Time is running out" for diplomatic and political efforts to resolve the standoff with North Korea, US Army Chief of Staff General Mark Milley warned on Wednesday, adding that there were "no good options" on the table but that a choice will have to be made.
On Tuesday, Pyongyang threatened to "strike a merciless blow at the heart of the US with our powerful nuclear hammer," if Washington made any moves towards regime change in North Korea, after CIA Director Mike Pompeo made comments to that effect at a security forum in Colorado.
You can share this story on social media: