N. Korea vows 'merciless blow with nuclear hammer' if US attempts to topple Kim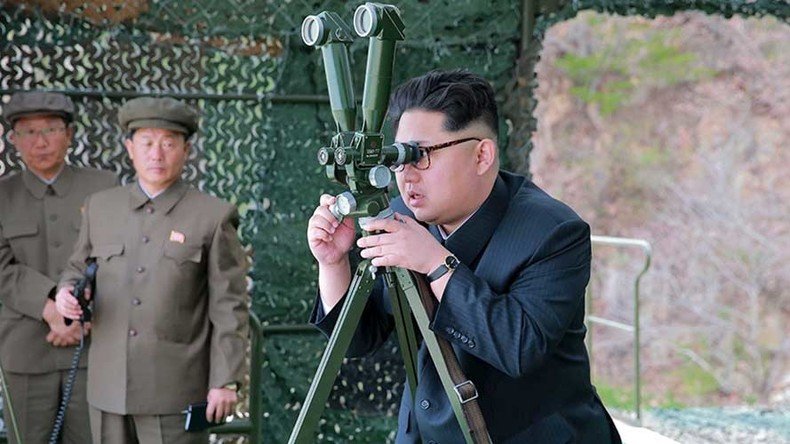 Responding to CIA chief Mike Pompeo's remark last week that North Koreans would be better off without Kim Jong-un, Pyongyang warned it would not hesitate to launch a nuclear strike at "the heart of the US" if Washington ventures to remove him.
Speaking at the Aspen Security Forum on Thursday, Pompeo argued that "from the administration's perspective" it would be desirable to "separate" Kim from the nuclear capacity of the rogue state, calling the authoritarian leader "the thing that is the most dangerous" about the North Korean situation.
"The North Korean people I'm sure are lovely people and would love to see him go," CNN quoted Pompeo as saying.
While Pompeo appeared to soften the statement, saying that he was not supporting regime change in North Korea, but merely the separation of "that regime from this system," the North Korean authorities were up in arms over what they denounced as Pompeo's "reckless remarks."
Saying that the CIA director's comments "have gone over the line," North Korea's foreign minister said in a statement Tuesday that it would "preemptively annihilate those countries and entities" by all possible "kinds of strike means, including the nuclear ones," if there is imminent danger to their leader's well-being, the statement, circulated by Pyongyang's official Korean Central News Agency.
READ MORE: North Korea unlikely to have ICBM technology, South intel says as Kim celebrates launch
Referring in particular to the rhetoric of the CIA director, the ministry added it would take immediate action "should the US dare to show even the slightest sign of attempt to remove" Kim.
"We will strike a merciless blow at the heart of the US with our powerful nuclear hammer, honed and hardened over time," it said, adding that "the likes of Pompeo" would face "catastrophic and miserable consequences" if they attempted to overthrow Kim.
Meanwhile, there have been reports from US military sources indicating that North Korea could be bracing for another missile launch to be carried out as soon as this week.
An unidentified Pentagon official told AFP on Tuesday that Washington believes North Korea may launch an intermediate-range missile or Hwasong-14 type of an inter-continental ballistic missile on July 27, ironically, to mark the date of signing of the Korean Armistice Agreement of July 27, 1953.
Earlier, North Korea claimed it had successfully test-fired a Hwasong-14 missile on July 4, saying that the rocket flew 933 kilometers and reached an altitude of 2,802 kilometers. Pyongyang alleged the launch was its first ever successful test of an intercontinental ballistic missile. However, this data was disputed by South Korean and Russian military experts. Following the launch, South Korea's intelligence service said that it was unlikely the North had succeeded in "securing the technology," pointing out that the pariah state lacks the appropriate testing facilities and casting doubt over whether the missile reentered the atmosphere.
The Russian Defense Ministry called into question Pyongyang's assertions that the missile was in effect an ICBM. Citing its own estimates, the ministry said the missile flew just about 535km and reached an altitude of 510km.
Nevertheless, the launch was followed by days of lavish celebrations in North Korea, including a dazzling fireworks display, pop concerts with high-ranking North Korean officials in attendance, as well as Kim Jong-un himself.
You can share this story on social media: