'Will reduce US to ashes': N.Korea celebrates first ICBM launch with dance & fireworks (VIDEOS)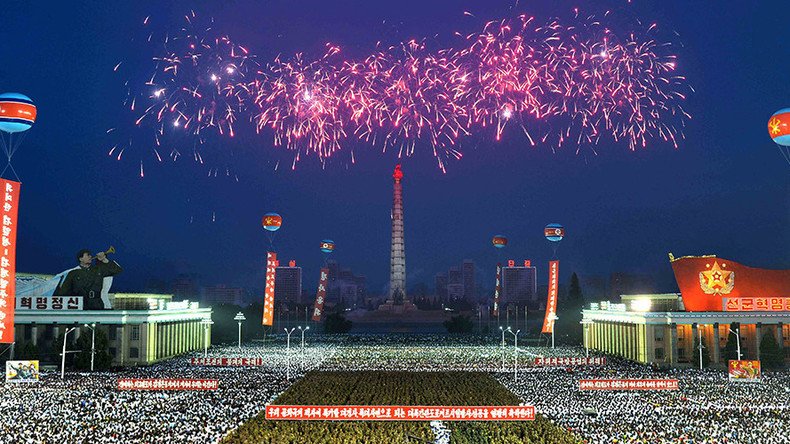 Thousands of soldiers and civilians gathered at Kim Il Sung Square in Pyongyang Thursday, dancing to a dazzling fireworks display while marking the launch of what North Korea say is its first intercontinental ballistic missile (ICBM).
"We enthusiastically celebrate the successful test launch of the intercontinental ballistic rocket, the greatest landmark in the history of our republic," read a banner across the square, AFP reported.
READ MORE: US rejects Russo-Chinese proposal to suspend drills in South Korea
Several high-ranking officials including Kim Yong-nam, the President of the Presidium of the Supreme People's Assembly of North Korea, and Vice-Marshal Hwang Pyong-so of the Korean People's Army joined in the celebrations.
If "US imperialists commit even the slightest military provocation," the North Korean army would "show to the world how the territory of the US will be reduced to ashes," AFP reported the officials telling the assembled crowd.
People on the square then danced to patriotic songs, the first of which was "Glory to General Kim Jong-un".
On Tuesday, July 4, North Korea test-launched a Hwasong-14 missile which it said flew 933km in 39 minutes, reaching an altitude of 2,802km.
READ MORE: 'N. Korea now has capacity to target heart of US Pacific Command'
The Russian Ministry of Defense assessed it be an intermediate range missile (IRBM), saying it flew some 535km, reached an altitude of 510km, which fell into the Sea of Japan.
The missile test was carried out despite a ban by the UN Security Council and has increased anxieties among the international community.
North Korea has been under UN sanctions since 2006, when the Security Council demanded that it cease nuclear testing and banned the provision of large-scale arms, nuclear technology, and related training to Pyongyang. Despite intense political and economic pressure, North Korea defiantly continues to pursue its research and development in the nuclear sphere.
You can share this story on social media: