US rejects Russo-Chinese proposal to suspend drills in South Korea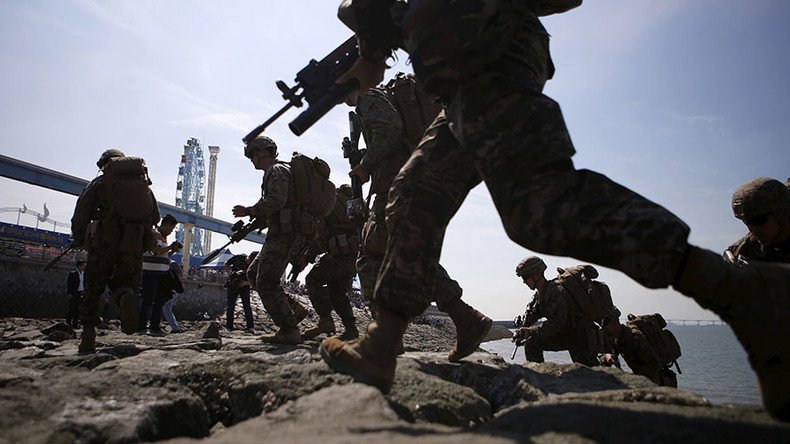 The US rejects a proposal by Russia and China to suspend joint drills with South Korea in exchange for North Korea freezing its nuclear weapons programs, the State Department said, adding that Washington does not see the activities as equivalent.
US drills with South Korea are not the same as North Korea's missile and nuclear tests, State Department spokeswoman Heather Nauert told reporters Thursday.
"These are all things that have taken place since the 1950s. So that wouldn't change," Nauert said, describing the drills as lawful and longstanding.
"We do these kinds of exercises and have relationships like this all over the globe. If China and Russia decide to come out against that, that is not going to change our position," she added.
Moscow and Beijing have called on Washington and Seoul to freeze large-scale military exercises in an attempt to calm tensions on the Korean peninsula after Pyongyang test-fired a missile it said could reach the US mainland.
The US diplomatic offensive to pressure and isolate North Korea is still in its early stages, according to the State Department spokeswoman.
"We continue to believe that China can do a whole lot more to try to bring additional pressure to North Korea," Nauert said, adding that China has "unique leverage" with Pyongyang because of the "strong trade relationship" between two countries.
One of the measures the US has proposed to other countries is to drastically scale back the number of North Korean guest-workers, Nauert said.
She also referenced last week's decision by the US Treasury Department to sanction a Chinese bank that did business with Pyongyang, although she declined to say whether more such sanctions were in the works.
You can share this story on social media: