No duck & cover: Hawaii prepares for North Korean missile attack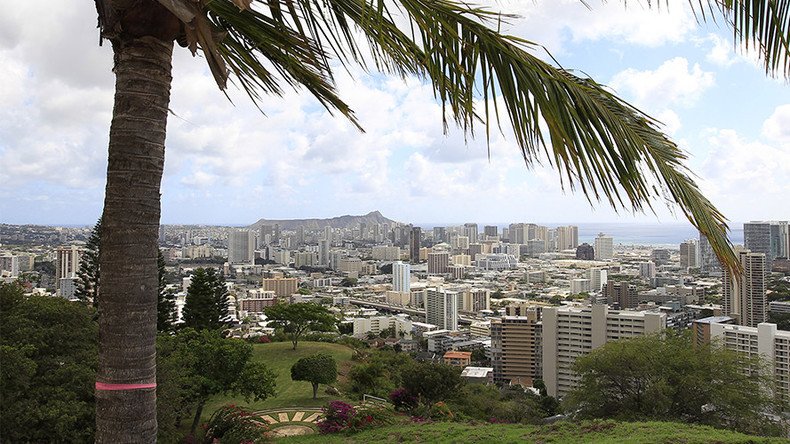 Even as they concede the probability of a North Korean missile attack is "very low," officials in charge of Hawaii's emergency management are rolling out a public relations campaign to prepare the state's 1.4 million residents for a worst-case scenario.
The campaign was announced on Thursday in local media, with the full roll-out expected Friday. Vern T. Miyagi, a retired US Army general now in charge of Hawaii's Emergency Management Agency, says he doesn't want to cause "undue stress" to the public, but his job is to plan for all eventualities.
"We don't know the exact capabilities or intentions of the North Korean government, but there is clear evidence that it is trying to develop ballistic missiles that could conceivably one day reach our state," Miyagi said in a statement published by the Honolulu Star Advertiser. "Therefore, we cannot wait to begin our public information campaign to ensure that Hawaii residents will know what to do if such an event occurs."
The worst-case scenario currently envisioned by officials from the 50th US state is a 15-kiloton nuclear weapon detonated 1,000 feet (300 meters) above Honolulu. In that case, residents will be told to "get inside, stay inside, and stay tuned" to further announcements.
"Know where to go, know what to do, and know when to do it," Miyagi said.
There will be no Cold War-style "duck and cover" drills, but students will take part in evacuation scenarios similar to those currently practiced in case of an active shooter, officials said.
The campaign will also feature a test of the new emergency siren on the first workday of each month.
All this disaster talk has been met with alarm at Hawaii's Tourism Authority.
"Everyone's safety in Hawaii is always our top priority," Charlene Chan, a spokeswoman for the agency, told the Star Advertiser. "However, we also know from speaking to our tourism industry partners that if reports are misinterpreted about the state's need to prepare for an attack, this could lead to travelers and groups staying away from Hawaii. The effect of such a downturn would ultimately be felt by residents who rely on tourism's success for their livelihood."
The threat of a North Korean missile attack on Hawaii "is a very remote possibility at this time," Chan added.
Miyagi, who served as a senior adviser at the US Pacific Command, has acknowledged that there's a "low probability" of a North Korean missile reaching the islands, but said it was the agency's job to have a plan for every possible threat.
An intercontinental ballistic missile (ICBM) fired from North Korea would reach the islands in just 20 minutes, giving the authorities a 12-15 minute window to warn the populace.
US officials consider North Korea's Hwasong-14 ballistic missile, which was tested on July 4, to be an ICBM. Other estimates put its maximum range at 4,100 miles, not quite enough to reach Hawaii, but enough to hit Alaska.
You can share this story on social media: