N. Korea's 1st ICBM launch shown on state TV (VIDEO)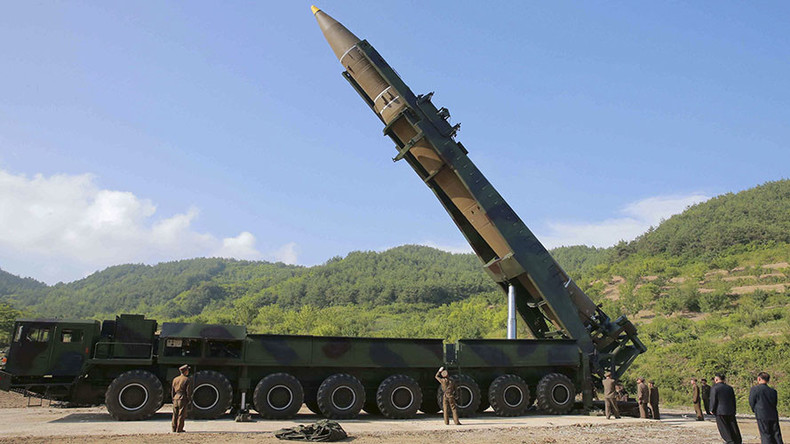 A video of the launch of what North Korea claims is its first intercontinental ballistic missile has been aired on state TV. On Tuesday, Pyongyang launched the Hwasong-14 ICBM, which reportedly flew 933km in 39 minutes, reaching an altitude of 2,802km.
North Korea is now "a full-fledged nuclear power that has been possessed of the most powerful inter-continental ballistic rocket capable of hitting any part of the world," said an announcement on state-run television.
READ MORE: North Korean missile new type, launched from new location - Pentagon
Leader Kim Jong-un was reportedly pleased with the launch as the official Korean Central News Agency reported he had "expressed satisfaction, saying it looked as handsome as a good-looking boy and was well made."
According to Russian Defense Ministry data, however, North Korea launched an intermediate range missile (IRBM), which flew some 535km, reached an altitude of 510km, and fell into the Sea of Japan.
The missile test, which was carried out despite a ban by the UN Security Council, has alarmed North Korea's neighbors China, Japan and South Korea, as well as US President Donald Trump.
Trump also hit out at the Chinese government for allegedly being too lenient with Pyongyang.
In response to the Hwasong-14 launch, the US and South Korea have also carried out joint ballistic missile drills as a warning to the North.
Kim was unapologetic, however, calling the recent test launch a "gift" for the "American bastards" as they marked their Independence Day, before encouraging his scientists to "frequently send big and small 'gift packages' to the Yankees" in the form of more and more missile tests.
Russia has condemned the test and called for a peaceful resolution to the mounting tensions on the Korean Peninsula.
"We've agreed to promote our joint initiative, based on a Russian step-by-step Korean settlement plan and Chinese ideas to simultaneously freeze North Korean nuclear and missile activities, and US and South Korean joint military drills," President Vladimir Putin said at a news conference in Moscow.
North Korea has been under UN sanctions since 2006, when the Security Council prohibited the provision of large-scale arms, nuclear technology, and related training to Pyongyang. Despite the economic pressure, North Korea continues to pursue its research and developments in the nuclear sphere.
You can share this story on social media: