North Korean missile new type, launched from new location - Pentagon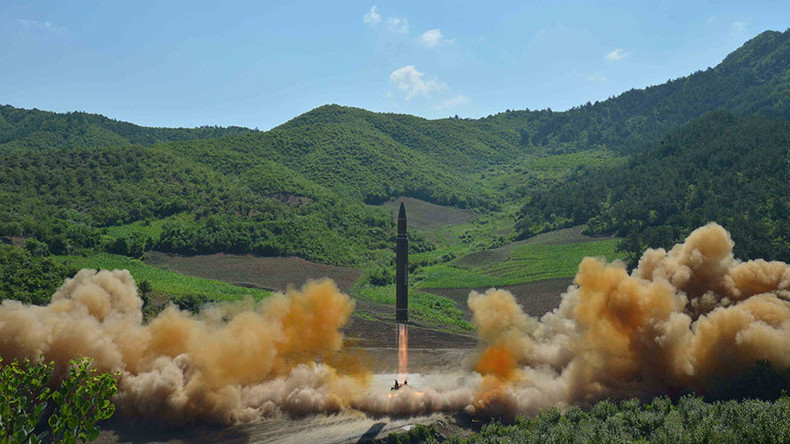 The missile launched by North Korea on July 4 was a new type that "we have not seen before," and launched from a location different from previous missile tests, the Pentagon said.
The missile was fired from a mobile launcher and had a reentry vehicle, Reuters reported, quoting US Department of Defense spokesman, Captain Jeff Davis. The launch was a danger to shipping in the Sea of Japan, as well as aircraft and satellites in space, Davis said.
US missile defenses are capable of dealing with the "limited threat" posed by North Korea's ICBM capability, Davis added, referring to the successful test intercept of an ICBM-like target in May. The US has also deployed a number of Terminal High Altitude Area Defense (THAAD) launchers in South Korea.
On Tuesday, Pyongyang claimed it had successfully launched its first intercontinental ballistic missile, Hwasong-14, which is capable of carrying a "large, heavy nuclear warhead." The missile, which can reportedly strike the US mainland, was called "another brilliant victory of the Korean people in their struggle against the US-led imperialists," according to the Korean Central News Agency (KCNA).
After the launch, the Hwasong-14 ICBM flew some 933 km in 39 minutes, reaching an altitude of 2,802 km, the North Korean state television reported.
According to the Russian Defense Ministry data, however, North Korea launched an intermediate range missile (IRBM), which flew some 535 kilometers, reached an altitude of 510km, and fell into the Sea of Japan.
Washington insists that North Korea cease all missile testing and has called for the immediate and unconditional de-nuclearization of the Korean peninsula. Pyongyang is saying its nuclear and missile programs are non-negotiable, "unless the US hostile policy and nuclear threat to the DPRK are definitely terminated," according to KCNA.
You can share this story on social media: