North Korea unlikely to have ICBM technology, South intel says as Kim celebrates launch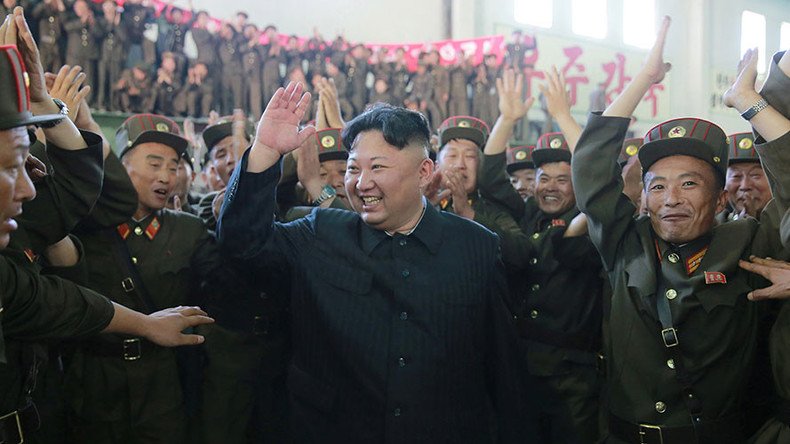 North Korea does not appear to have the technology to build intercontinental ballistic missiles (ICBMs) or have testing facilities for them, South Korean intelligence services said, referring to a recent long-range missile test Pyongyang claimed was successful.
"Although North Korea claimed that [the missile's] heat resistance was verified, whether it re-entered [the atmosphere safely] was not confirmed and the country has no relevant test facility, making it look like it has not secured the technology," South Korea's National Intelligence Service (NIS) said in a report to the parliamentary intelligence committee, as cited by Yonhap news agency.
The NIS has not been able to confirm that the Hwasong-14 missile test was successful, Yi Wan-young, a member of the South Korean parliament's intelligence committee, said, as cited by Reuters.
READ MORE: Missile launched by North Korea was intermediate range, not ICBM – Russian Defense Ministry
"Considering how North Korea does not have any testing facilities [for re-entry technology], the agency believes [North Korea] has not yet secured that technology," he said.
The intelligence agency believes that the missile was a modified version of an intermediate-range missile that North Korea tested in May, Yi added.
On Tuesday North Korean leader Kim Jong-Un joined a pop music concert devoted to the ICBM test launch.
'Song of Hwasong Rocket' and 'Make Others Envy Us' were performed at the celebrations, Pyongyang's official Korean Central News Agency reported, as cited by AP.
Earlier in July, North Korea test-launched a Hwasong-14 missile which it said flew 933km in 39 minutes, reaching an altitude of 2,802km.
However, the Russian Ministry of Defense assessed it was an intermediate-range missile (IRBM), saying it flew some 535km and reached an altitude of 510km.
The North Korean missile test was carried out despite a ban by the UN Security Council and once again caused serious concern among the international community.
Pyongyang has been under UN sanctions since 2006, when the Security Council demanded that it cease nuclear testing and banned the provision of large-scale arms, nuclear technology and related training to Pyongyang. North Korea, however, has continued its research and development in the nuclear area.
Pyongyang claimed to have successfully tested Pukguksong-2 Hwasong-12 IRBMs in May.
The US also said it had tested an ICBM interceptor missile of its own in May. A Ground-based Midcourse Defense (GMD) interceptor was fired from Vandenberg Air Force Base in California, while the target vehicle, designed to resemble an ICBM, took off from Kwajalein Atoll in the Marshall Islands. The intercept took place above the Pacific Ocean, the US Missile Defense Agency said.
You can share this story on social media: