Missile launched by North Korea was intermediate range, not ICBM – Russian Defense Ministry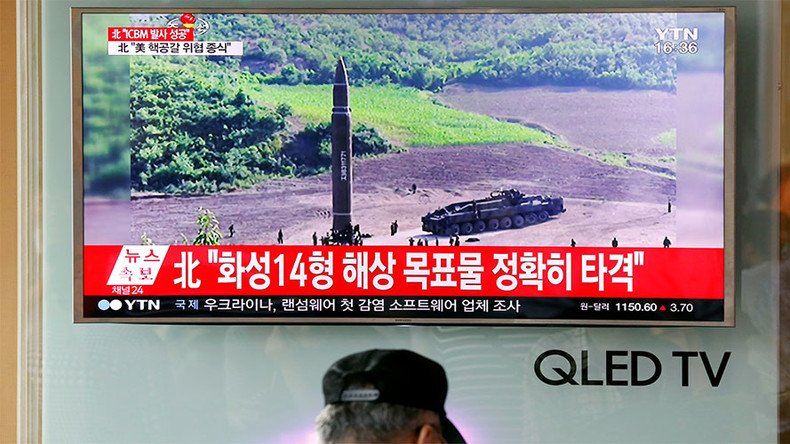 The Russian Defense Ministry has stated that North Korea launched an intermediate range missile on Tuesday morning. The missile flew around 535 kilometers, reaching an altitude of 510 kilometers, and fell into the Sea of Japan, according to military data.
The missile test carried out by Pyongyang on Tuesday morning did not pose a threat to Russia, the defense ministry said in a statement.
"The launch was carried out in a direction away from Russia's borders, and did not pose a threat to the Russian Federation," the Russian military stated.
Russia's missile warning system tracked the launch from North Korean territory, according to the military officials.
"The launch of a ballistic missile, carried out on July 4 at 3:46am Moscow time from a North Korean firing ground was recorded and tracked by Russia's missile warning system," an MoD statement said.
North Korea claimed that it had successfully launched its first intercontinental ballistic missile on Tuesday morning. Pyongyang said its Hwasong-14 ICBM flew some 933 kilometers in 39 minutes reaching an altitude of 2,802 kilometers, according to the country's state television.
North Korea has repeatedly warned the US and its Asian allies, which conduct joint drills near the Korean Peninsula, that it would launch more missile and nuclear tests.
An intercontinental ballistic missile (ICBM) launched from North Korea would be able to reach and strike the United States, as such missiles can cover a distance of more than of 5,500 kilometers, while intermediate-range ballistic missiles (IRBM) have a much shorter range and pose no threat to the US.
READ MORE: 'Nothing better to do with life?' Trump mocks Kim Jong-un after Pyongyang's latest missile test
The US military identified the projectile fired by North Korea as a single, land-based, intermediate range ballistic missile. American military data indicates that it flew some 930 kilometers in 37 minutes before falling into the Sea of Japan.
US President Donald Trump mocked North Korea's latest missile test immediately after the launch, suggesting that the country's leader, Kim Jong-un, doesn't have "anything better to do with his life" than fire off missiles.
North Korea has just launched another missile. Does this guy have anything better to do with his life? Hard to believe that South Korea.....

— Donald J. Trump (@realDonaldTrump) July 4, 2017
Trump also urged China to exert more pressure on the North and "end this nonsense once and for all." Meanwhile, Beijing called for calm and restraint from all sides, while condemning North Korea's latest test, which violated UN Security Council resolutions.
You can share this story on social media: