Saber-rattling: Naval drills, sanctions & weapon sales revive US tensions with China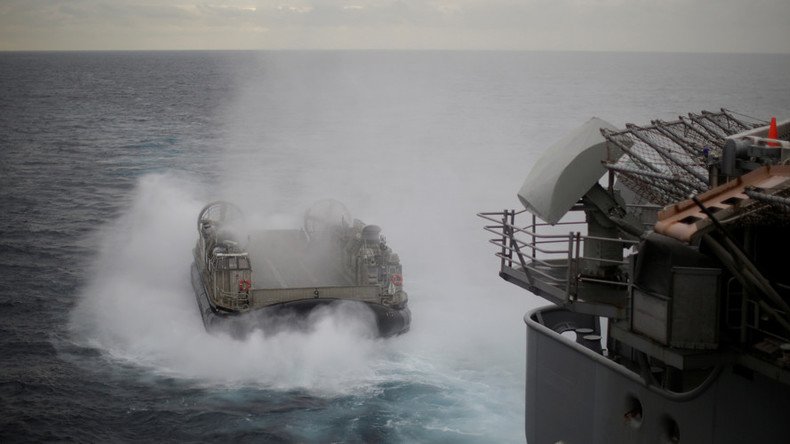 The US and Australian navies kicked off their biggest-ever joint amphibious drills, described as a message to friends and foes alike, as Washington sanctioned two Chinese businessmen and a bank over North Korea and announced a sale of weapons to Taiwan.
On Thursday, Treasury Secretary Steven Mnuchin announced sanctions against China's Bank of Dandong, Dalian Global Unity Shipping Co, and two Chinese business executives the US accuses of running front companies on behalf of North Korea.
Washington also announced a $1.4 billion deal to sell weapons to Taiwan, a Chinese island ruled as a de facto independent country by the nationalist government ousted from power on the mainland in 1949.
Beijing has sent "solemn representations" to the US over the arms deal, Chinese Foreign Ministry spokesman Lu Kang said Friday. He called the sanctions "wrong moves" that "go against the consensus achieved at Mar-a-Lago," referring to the April meeting between US President Donald Trump and his Chinese counterpart Xi Jinping.
"The Chinese government and Chinese people have every right to be outraged" over Taiwan, the Chinese Embassy in Washington said in a statement.
Beijing is yet to comment on the size and scope of the joint US-Australian drills. Dubbed 'Talisman Saber 2017,' the month-long exercise off the coast of Australia involves 33,000 personnel, along with ships and aircraft from both navies.
Admiral Harry Harris, head of the US Pacific Command, told reporters the size of the exercise is intended as a signal.
"I'm pleased about that message it sends our friends, allies, partners, and potential adversaries," Harris told reporters on board the amphibious assault ship USS Bonhomme Richard.
"In Canberra and in Washington, they'd be quite happy for China to take this as a statement that the alliance is healthy and strong," Peter Jennings, executive director of the Australian Strategic Policy Institute (ASPI), told the New York Times.
Harris has been vocally critical of China's activities in the South China Sea, where Beijing has conducted land reclamation efforts on a number of reefs and islands to bolster its territorial claims. Speaking to the ASPI earlier this week in Brisbane, he called the Chinese outposts "fake islands," and urged Australia and other countries in the region to band closer together to counter the threat of Islamic State (IS, formerly ISIS/ISIL) in the Philippines.
Earlier this month, a Chinese contingent took part in drills with the Russian Navy in the Baltic Sea. The missile destroyer Changsha, the missile frigate Yuncheng, and a supply ship took part in exercises near St. Petersburg and Kaliningrad aimed at "joint rescue and protection of maritime economic activities," according to Chinese news agency Xinhua.
You can share this story on social media: