'Wake-up call': US admiral warns of ISIS danger in Pacific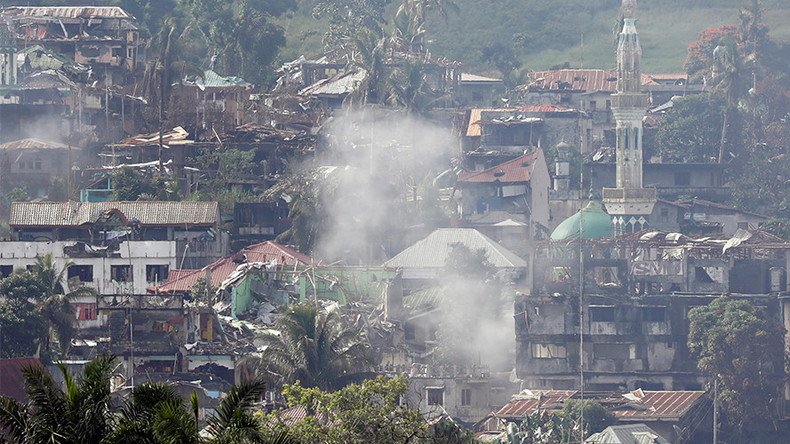 The spread of Islamic State to the Philippines should be a "wake-up call" for US allies in the Pacific and require a new regional partnership, according to the admiral in charge of US Pacific Command (USPACOM).
Islamic State (IS, formerly ISIS/ISIL) fighters from Syria and Iraq are providing resources and ideology to homegrown radicals on the island of Mindanao, resulting in the weeks-long battle with the Philippines military in the city of Marawi, Admiral Harry B. Harris Jr. said in Australia on Wednesday.
"Marawi is a wake-up call for every nation in the Indo-Asia Pacific," Harris said at an Australian Strategic Policy Institute event in Brisbane, Queensland. "These terrorists are using combat tactics that we've seen in the Middle East to kill in the city of Marawi, in Mindanao, the first time ISIS-inspired forces have banded together to fight on this kind of scale."
Responding to the crisis requires closer cooperation from all nations in the region, including those with large Muslim populations, he said.
"The Philippines, Indonesia, Malaysia, Bangladesh, New Zealand, Australia and the United States could be a natural partnership with this purpose in mind," he said. "We can counter violent extremist organizations like ISIS collaborating with regional allies and partners that may have elements in their countries sympathetic to ISIS's cause."
Harris called IS a "nemesis to humanity" that has sought to spread across the world as it lost ground in its self-proclaimed caliphate in Syria and Iraq. There have been reports of foreign fighters from Indonesia, Malaysia, Yemen and Saudi Arabia joining the insurgents on Mindanao.
China's efforts to assert sovereignty over the disputed islands in the South China Sea was also a concern for the American admiral, whose keynote speech was titled, "Challenges, Opportunities, and Innovation in the Indo-Pacific."
"I believe the Chinese are building up combat power and positional advantage in an attempt to assert de facto sovereignty over disputed maritime features," Harris said, referring to Beijing's construction efforts that established a string of man-made islands in the area. "Fake islands should not be believed by real people."
He also called on China to do more about North Korea's nuclear and ballistic missile program, saying that any nation that wants to be a reasonable contributor to international security must work publicly and privately to "to bring Kim Jong-un to his senses, not to his knees."
The world is approaching an inflection point in history where freedom, justice and the rules-based international order all hang in the balance, said the admiral, following it up with a quote from the movie 'Transformers 3': "Fate rarely calls upon us at a moment of our choosing."
Harris: I believe we're approaching an inflection point in history, freedom, justice, and the rules-based system hang in the balance #ausdef

— ASPI (@ASPI_org) June 28, 2017
Adm. Harris offers a call to action by quoting Transformers 3: 'fate rarely calls upon us at a moment of our choosing' #ausdef

— ASPI (@ASPI_org) June 28, 2017
You can share this story on social media: