ISIS-linked militia 'decapitating, enslaving' - Philippines army sweeps Marawi City (PHOTOS, VIDEOS)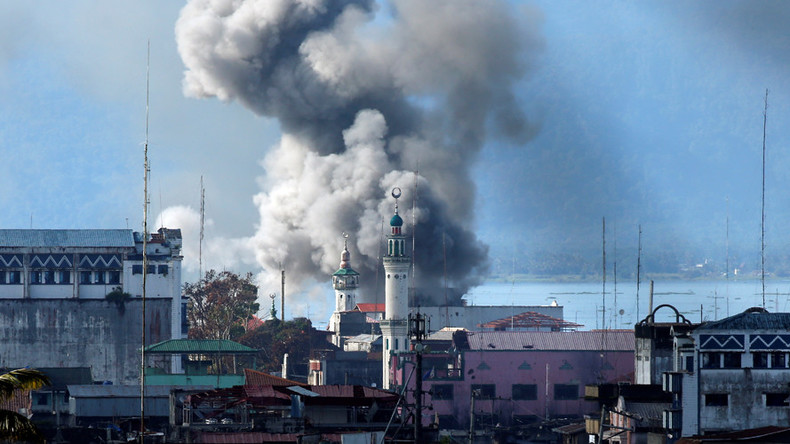 The Philippines military has uncovered five decapitated bodies of civilians among a total of 17 dead bodies found in Marawi City. The macabre find comes amid reports of widespread looting and sex slavery by Islamic State-affiliated Maute fighters.
The civilian death toll in the fighting stood at 27 before this latest discovery, which is the first such instance of the Islamist militants employing such extreme tactics against civilians. Authorities fear the civilian death toll may further rise.
"[It] may increase significantly once we are able to validate all this information," military spokesman Restituto Padilla said, as cited by Reuters.
"There have been a significant number [of dead bodies] that have been seen but again, we cannot include many of these," he said.
"Our combat environment is sensitive. First, there are trapped civilians that we have to protect. They also have hostages and third, there are many traps so we have to clear buildings slowly," he said.
Civilian hostages in the besieged city have also reportedly been forced into slavery by the militants, who have been holed up for almost six weeks in the battle against the country's military.
"They are being forced to be sex slaves, forced to destroy the dignity of these women," military spokesman Jo-Ar Herrera told a news conference, citing the accounts of seven Marawi residents who had escaped or were rescued as part of the ongoing operation to retake the city.
Hostages have also been forced to loot abandoned homes, fight government forces and even serve as sex slaves for the Maute militants, Herrera said.
"So this is what is happening inside, this is very evident ... these are evil personalities," he added.
The militants are heavily armed and have staved off multiple government operations to retake the city with rocket-propelled grenades, sniper rifles and improvised explosive devices.
The city is under aerial and artillery bombardment from government forces, with only a brief eight-hour respite so that residents could observe Eid celebrations marking the end of the Muslim holy month of Ramadan.
READ MORE: US special forces join fight against Philippines ISIS-affiliates after 14hr gun battle (VIDEOS)
Meanwhile, Abdullah Maute, one of the brothers responsible for the insurgency, has reportedly attempted a hostage-swap using local Muslim leaders as intermediaries.
During joint police and military operations last month, Cayamora and Farhana Maute, father and mother of the infamous Maute brothers, were captured. Abdullah allegedly attempted a swap deal to return his parents in exchange for Father Teresito "Chito" Soganub, a captured Catholic priest.
READ MORE: Duterte claims 'never approached' US for help in battle against Islamist militants (PHOTOS, VIDEO)
"The local religious leader-led talks with terrorists last Sunday was one not sanctioned," presidential spokesman Ernesto Abella told reporters, as cited by Reuters.
"Any demands made inside, therefore, hold no basis. Let us remind the public, the gravity of the terrorists and their supporters' offences is immense."
According to official government figures, 70 servicemen, 27 civilians and 290 militants have been killed since the failed arrest of the Islamic State Southeast Asian emir Isnilon Hapilon on May 23.
Some 246,000 people have been internally displaced as a result of the fighting.
RT's local contact, with whom dialogue has been maintained throughout the six-week siege, alleges that the Philippines military are also looting the city.
"Not just Maute. Even Philippine military are looting also," the source, who evacuated from Marawi earlier this month, told RT.
"The looting is everywhere, civilian, Maute, Philippine military are all looters," added the source.
Elsewhere, speculation is mounting surrounding the apparent deteriorating condition of Philippines President Rodrigo Duterte, who has been conspicuously absent from the public eye in recent weeks.
"I know the deployment of snipers and where they hid their firearms. I already had the complete picture and I knew that would be a long fight," Duterte said in a speech Tuesday evening, as cited by Reuters.
"It seems to be limitless supply. They were able to stockpile their arms," he said.
"What's painful for me, a fractured ideology entered. All that they want is to kill and destroy, how can we live with that?" he added.
"Some of those who traveled to the Middle East got contaminated, brought the ideology back home and promised to declare war against humanity."
He held a meeting with members of his cabinet and hosted a dinner celebrating Eid al-Fitr Tuesday evening, his first public appearance since June 20, when he visited soldiers and Marawi City evacuees.
The Philippines president is known to live with multiple ailments including back problems and migraines from a motorcycle accident, as well as Buerger's disease, caused by his heavy smoking in younger days, which can cause blockages in blood vessels.