US sanctions Chinese bank, plans to sell $1.4bn worth of arms to Taiwan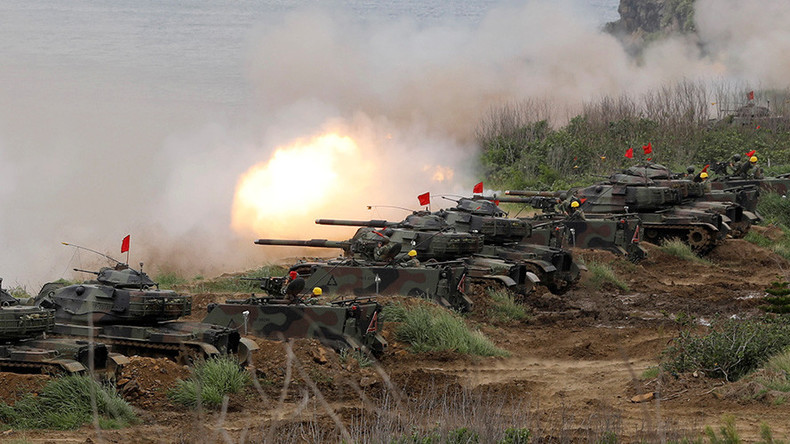 The Trump administration plans to sell Taiwan just over $1.4 billion in weapons, while China's ambassador to the US has reportedly said the deal goes against the "spirit" of talks between President Donald Trump and Chinese President Xi Jinping.
"And all these actions – sanctions against Chinese companies and especially arms sales to Taiwan – will certainly undermine the mutual confidence between the two sides and runs counter to the spirit of the Mar-a-Lago summit," said Ambassador Cui Tiankai, speaking to reporters at an embassy reception in Washington.
BREAKING: China's ambassador to U.S. says arms sales to Taiwan, sanctions on Chinese firms, run counter to spirit of Trump-Xi summit pic.twitter.com/5IVfLdYFiI

— Reuters World (@ReutersWorld) June 29, 2017
"The administration had formally notified Congress of seven proposed defense sales for Taiwan. It's now valued about $1.42 billion," US State Department spokeswoman Heather Nauert said Thursday, adding that there was no change to America's long-standing "one-China" policy.
The weapons are to support the autonomous island's self-defense capability, said the State Department.
The sale, when first announced in March, had already provoked criticism from Beijing that said the weapons won't prevent the self-ruled island's re-unification with China.
"Separatist Taiwan independence forces and their activities are the greatest threat to peace and stability in the Taiwan Strait," Chinese Defense Ministry spokesman Wu Qian said in March. "It is futile to use weapons to refuse unification, and is doomed to have no way out."
Taiwan has been self-ruled since the end of China's civil war in 1950, but Beijing has maintained its sovereignty over the island.
The weapons sale requires congressional approval, and comes two years after President Barack Obama announced a $1.83 billion arms sale to Taiwan, provoking an angry reaction from China.
The previous package included two Navy frigates as well as anti-tank missiles and amphibious attack vehicles.
The US has pursued the so-called one-China policy since 1979 which meant that Washington agreed not to have diplomatic relations with Taiwan. Yet, the US has offered military support to the autonomous island despite Beijing's objections.
Earlier on Thursday, China protested to Washington after a US Senate committee approved a bill calling for the resumption of port visits to Taiwan by the US Navy for the first time since 1979.
In December, breaking the diplomatic embargo between Washington and Taipei, President Donald Trump accepted a congratulatory phone call from Taiwan's leader, Tsai Ing-wen.
It was the first contact between a leader of Taiwan and an incumbent or incoming US president in almost four decades, and caused a diplomatic uproar.
However, Trump agreed to honor the "one China" policy, and hosted Chinese President Xi Jinping at his Florida resort in April.
The Trump administration has since demanded that Beijing put more pressure on North Korea to rein in its nuclear and missile programs.
Also on Thursday, Washington announced sanctions against a Chinese bank for allegedly laundering money for Pyongyang, and against two Chinese citizens as well as a shipping company for allegedly helping North Korea's nuclear and missile programs.
You can share this story on social media: