Beijing slams US for 'irresponsible remarks' on S. China Sea
Published time: 5 Jun, 2017 14:55
Edited time: 7 Jun, 2017 08:59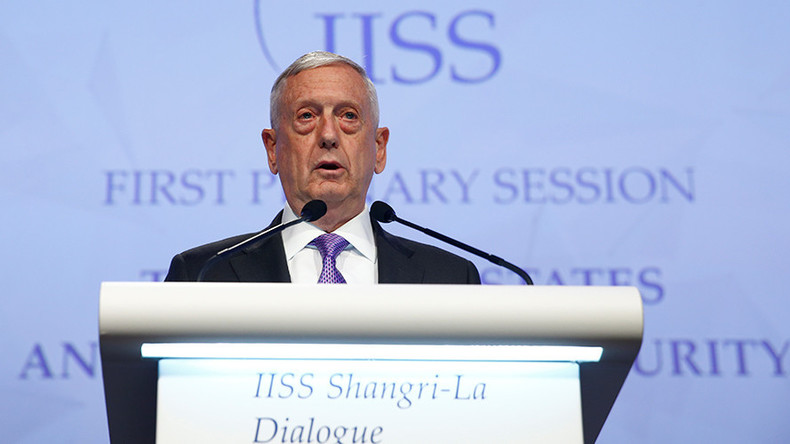 China has expressed anger at "irresponsible remarks" by US Defense Secretary James Mattis, in which he accused Beijing of disregarding international law and undermining regional stability over its actions in the disputed South China Sea.
Speaking at the annual Shangri-La Dialogue security conference in Singapore, Mattis said that China's construction and militarization of artificial islands in the South China Sea undermines stability in the region.
He went on to accuse Beijing of having contempt for other countries' interests, according to Reuters.
Responding to Mattis' remarks, Chinese Foreign Ministry spokeswoman Hua Chunying said that Beijing "is firmly opposed to that and urges relevant parties to stop their irresponsible remarks, fully respect regional countries' efforts to maintain peace and stability in the South China Sea and play a constructive role to that end."
Hua also said that China's construction of facilities in the disputed Spratly Island chain is aimed at improving working conditions for its citizens stationed there, maintaining sovereignty, and fulfilling China's international responsibilities.
Mattis also went on to say that although Washington is seeking cooperation from Beijing when it comes to North Korea, the US will not stop challenging China's actions in the South China Sea.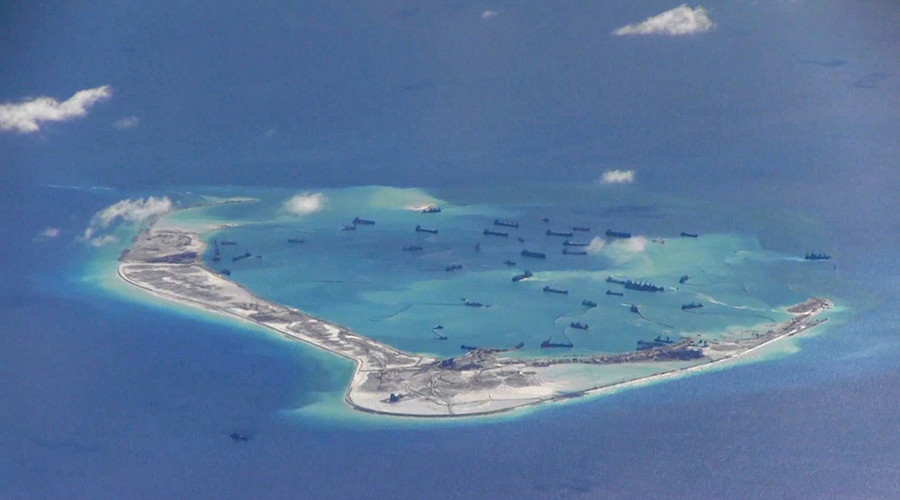 The defense secretary stressed that the US will continue to "fly, sail, and operate wherever international law allows, and demonstrate resolve through operational presence in the South China Sea and beyond."
That comment came after a US Navy warship sailed within 12 nautical miles (22.2km) of an artificial island built by China on a disputed reef in the South China Sea – the first such challenge to Beijing since US President Donald Trump took office in January.
Hua said that Beijing has always respected freedom of navigation, but opposes the show of military force in the South China Sea, in the name of exercises. She said that such behavior threatens China's sovereignty and security.
Chinese state media also responded to Mattis' remarks on Monday, accusing the US of hypocrisy.
"US President Donald Trump's decision to pull the US out of the Paris climate change pact offers the latest example of how the US disregards international agreements to suit its selfish and short-sighted needs," the China Daily newspaper wrote.
The Spratly Islands are claimed by China, the Philippines, Vietnam, Taiwan, Malaysia and Brunei.
China has built numerous artificial islands in the Spratly chain, each of which have runways, aircraft hangars, radar sites, and hardened surface-to-air missile shelters, according to photos analyzed by the Washington-based Center for Strategic and International Studies (CSIS).
Beijing has said that it has every right to build military defense facilities in the Spratlys, claiming the island chain is part of Chinese territory.
"It is totally within China's sovereignty to deploy necessary defense facilities on its own territory. It is exercising the self-preservation and self-defense rights that a sovereign state is entitled to, and has nothing to do with 'militarization'," Hua said on Monday.