China warns 'unpermitted' US patrol to leave disputed waters in S. China Sea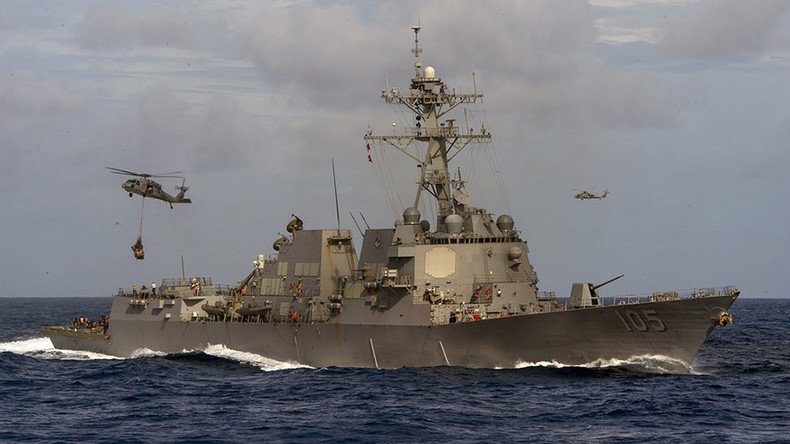 The Chinese Navy has warned a US warship to leave, as it sailed within 12 nautical miles of the Spratly Islands in the South China Sea "without permission." Beijing says that the latest US move disrupts the peace process in the region.
After the USS Dewey guided missile destroyer entered waters near the disputed land "without permission from the Chinese government," the country's navy "warned it to leave," Chinese Foreign Ministry spokesman Lu Kang said at a news conference on Thursday, as cited by AFP.
China slammed the recent US patrol, saying that it "undermines China's sovereignty and security interests." Beijing urged Washington to "correct this mistake" and refrain from further provocations that can undermine the "peace and security of the region" as well as bilateral cooperation between the US and China.
"Stop taking further provocative actions that hurt China's sovereignty and maritime interests, so as to avoid hurting peace and security of the region and long term cooperation between the two countries," Lu Kang stated. He added that these patrols can "cause unexpected air and sea accidents," Reuters reports.
The 'USS Dewey' guided missile destroyer entered Mischief Reef in the Spratly Islands, within 12 nautical miles of the disputed land, on Wednesday. Coastal waters extending 12 nautical miles are identified as territorial waters by the 1982 United Nations Convention, meaning the US entry challenges China's territorial claims.
The Spratly Islands have been at the center of territorial disputes between China, the Philippines, Vietnam, Malaysia, Brunei and Taiwan as the region is strategically important for trade. Beijing's claims to nearly all of the resource-rich South China Sea and its construction of military facilities on the islets have been criticized by US authorities. China has consistently said that it will resolve the dispute with its neighbors, rejecting a 2016 Hague tribunal ruling which did not approve the Chinese claims and ruled in favor of the Philippines.
US warships had been spotted in the region previously, but the Wednesday entry is the first since Donald Trump took office. In the meantime, the US president is seeking support from his Chinese counterpart, Xi Jinping, to restrain North Korea, which continues to hold nuclear and missile tests.
READ MORE: Philippines moves troops, supplies to disputed S. China Sea island claimed by Beijing
You can share this story on social media: