Philippines moves troops, supplies to disputed S. China Sea island claimed by Beijing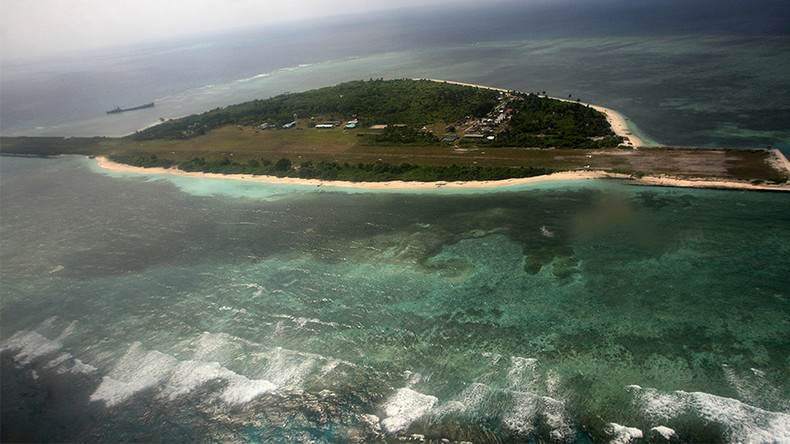 The Philippines has begun moving troops and equipment to a disputed island in the South China Sea which is claimed by both Manila and Beijing, a Philippines general said. It comes ahead of construction, including lengthening an airstrip on the island.
The troops and initial supplies arrived at Pag-asa Island last week, Lt. Gen. Raul del Rosario, head of the Philippine military's Western Command, said as quoted by AP.
Some 1.6 billion pesos (US$32 million) has been set aside for construction on the island, which will include reinforcing and lengthening and airstrip and building dock, according to the official.
Solar power, a desalination plant and refurbishment of military housing, as well as sites for marine research and tourists, are set to be built on the island.
Earlier this month, Chinese Ambassador Zhao Jianhua warned that any construction on the island, known internationally as Thitu, would be illegal.
"We view the occupation by the Philippine side of those islands as illegal. And so the building on it are also illegal," he said, as quoted by the Manila Times.
Zhao added that China would give "warning" to any intruding aircraft in the island's airspace, as well as any unwelcome planes which may fly in the airspace of the larger Kalayaan Island Group.
The Philippines' Department of Foreign Affairs shrugged off Zhao's statements, with spokesman Robespierre Bolivar stating that the island and the Kalayaan Island Group are "a municipality of Palawan," a province of the Philippines.
China protested a visit to the island by Philippines defense and military chiefs last month, weeks after Philippines President Rodrigo Duterte vowed to occupy and fortify islands in the South China Sea in order to make a "strong point" amid its territorial dispute with Beijing.
READ MORE: 'Friendship with China' makes Duterte reconsider raising Philippines flag on disputed islands
Pag-asa is the second-largest island in the Spratly archipelago, which is also claimed by Taiwan and Vietnam.
The Spratly Islands have long been a point of contention between the Philippines and China, as Beijing lays claim to virtually all of the South China Sea. It has tried to stake its claim by transforming seven mostly submerged reefs into island outposts – some of which have runways, radars and weapons systems.
The Hague Tribunal ruled last year that China has caused irreparable harm to the ecosystem of the Spratlys, and that its actions have breached the sovereign rights of the Philippines. Beijing rejected the verdict, with state media calling it "ill-founded" and "naturally null and void."
You can share this story on social media: