GM accused of emissions cheating for diesel pickups in new lawsuit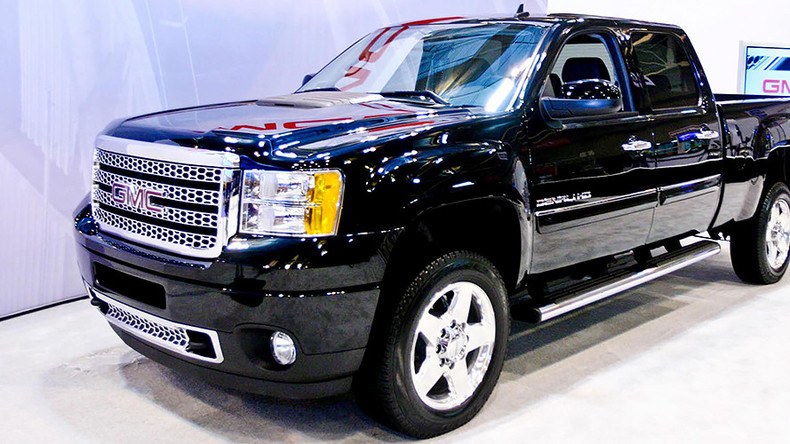 General Motors has become the latest automaker to be sued for allegedly cheating on emissions testing with defeat devices on its diesel pickup trucks. The lawsuit seeks class-action status against both GM and German electronics company Bosch.
Owners and lessees of more than 705,000 GM diesel Sierra HD and Silverado models of heavy-duty trucks with Duramax-branded engines filed suit on Thursday, claiming that the defeat devices allow the trucks to emit two-to-five times the legal limit of dangerous nitrogen oxide (NOx) pollutants in real-world conditions ‒ and "many times" higher than their gasoline counterparts.
"To appeal to environmentally conscious consumers, GM markets its Silverado and Sierra Duramax vehicles as having low emissions, high fuel economy, and powerful torque and towing capacity. GM charges a premium of approximately $5,000 for diesel-equipped vehicles over comparable gas vehicles," the suit said.
The specific trucks named in the suit are the model year 2011-2016 GMC Sierra 2500HD and 3500 HD trucks, and Chevrolet Silverado 2500HD and 3500 HD trucks.
"GM's representations are deceptive and false, and GM sold these vehicles while omitting information that would be material to a reasonable consumer that GM has programmed its Silverado and Sierra Duramax vehicles to significantly reduce the effectiveness of the NOx reduction systems during realworld driving conditions," the suit said.
The named plaintiffs ‒ Andrei Fenner of Mountain View, California, who owns a 2011 Sierra, and Joshua Herman of Sulphur, Louisiana, who owns a 2016 Silverado ‒ said they would not have bought their trucks or would have paid less for them if they had known about the emissions cheating.
The Detroit, Michigan-based automaker used at least three defeat devices to ensure that GM trucks met federal and state emissions standards, the lawsuit claimed. Instead of turning heavy fuel into a "fine mist" that delivered a "whopping reduction" in emissions compared to the previous model, the devices turned down emissions controls when the vehicle wasn't being tested.
"GM claimed its engineers had accomplished a remarkable reduction of diesel emissions," the complaint read. "These GM trucks likely dumped as much excess poisonous emissions into our air as did the cheating Volkswagen passenger cars."
In 2015, VW became the first automaker accused of cheating emissions on its "clean diesel" vehicles. The German automaker reached an agreement with the US Department of Justice (DOJ) in April to pay a $2.8 billion criminal penalty for the transgression. Volkswagen is also paying $1.5 billion in a civil lawsuit brought by the US government, and spending $11 billion to buy back cars and offer other compensation to owners. Seven VW employees have been indicted, and CEO Martin Winterkorn resigned.
Auto parts supplier Robert Bosch GmbH was named as a co-defendant in the VW case, and was also named in the GM suit as "an active and knowing participant in the scheme to evade" emissions standards. The complaint against GM mentioned VW more than 80 times in its 190 pages. GM is at least the sixth automaker to face charges of emissions cheating.
On Tuesday, the DOJ filed an expected lawsuit against Fiat Chrysler, accusing the Auburn Hills, Michigan-based automaker of building and selling diesel engines that violate the Clean Air Act. The suit covers nearly 104,000 Ram 1500 and Jeep Grand Cherokee vehicles from model years 2014 to 2016, which the US Environmental Protection Agency (EPA) said contained at least eight software-based features that "lessen the effectiveness of the vehicles' emissions control systems during certain normal driving situations."
In March, the French Economic Ministry accused car manufacturer Renault of using emissions-cheating software that allowed two of its models to produce emissions that were more than 300 percent the legal limits. Mercedes-Benz parent Daimler AG and Peugeot SA have also been accused of using defeat devices.
GM shares fell as much as 2.7 percent after the lawsuit was filed on Thursday, but gained some of that loss back in afternoon trading. Shares were still down 69 cents, however, trading at $32.50.
GM denied the claims in the suit, calling them "baseless," and promised to "vigorously defend" against the charges.
Bosch said it was taking the "allegations of manipulation of the diesel software very seriously" and cooperating with the various investigations, Linda Beckmeyer, a company spokeswoman, said in a statement.
The vehicles at the heart of the lawsuit represent about 12-12.5 percent of GM's full-size pickups, RBC Capital analyst Joseph Spak estimated in a research report. If a stop-sale order of any kind is issued, it could pose inventory and production problems, as could the negative publicity of the case.
GM previously had to pay about $2.5 billion in penalties and settlements over faulty ignition switches that were linked to 124 deaths.