Volkswagen chief executive Martin Winterkorn resigns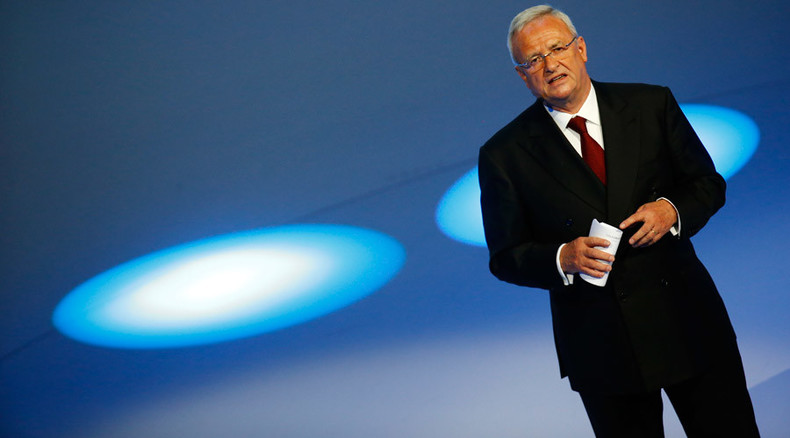 The CEO of Volkswagen AG Martin WInterkorn has resigned over the emissions scandal that could cost his company billions of dollars. The German auto maker admitted 11 million vehicles worldwide were fitted with pollution control cheating software.
"I am shocked by the events of the past few days. Above all, I am stunned that misconduct on such a scale was possible in the Volkswagen Group," WInterkorn said in a statement.
WInterkorn said that as CEO he accepted responsibility for the irregularities found in the diesel engines, and "therefore requested the Supervisory Board agree on terminating my function as CEO of the Volkswagen Group."
The head of VW added that his resignation would lead to a fresh start which the company needed.
READ MORE: Volkswagen troubles piling on as emission scandal evolves
VW's pollution scandal began in the US and has grown into the biggest in the company's 78-year history. On Tuesday France called for an EU inquiry, with its environmental agency claiming it will conduct its own investigation. The UK transport secretary has also called for a probe. Germany, Italy and South Korea have also started investigations into Volkswagen vehicles.
German prosecutors are conducting a preliminary investigation into the manipulation of vehicle emission test results at Volkswagen, with US authorities also planning a criminal investigation.
The scandal broke last week, following a report from the US Environmental Protection Agency. The agency reported that VW vehicles contained software that turns off emissions controls when driving normally and turns them on when the car is undergoing an emissions test.
The device allowed VW vehicles to pollute 10 to 40 times over the legal limit, according to data from EPA.
The vehicles in question are four-cylinder diesel Volkswagen and Audi cars - Volkswagen Jetta (2009-2015), Volkswagen Beetle (2009-2015), Audi A3 (2009-2015), Volkswagen Golf (2009-2015) and Volkswagen Passat (2014-2015).
The Volkswagen Group is the world's biggest carmaker. The company owns the Audi, Bentley, Bugatti, Lamborghini, Porsche, SEAT, Skoda and Volkswagen brands.
You can share this story on social media: