'Devastating' report finds decades of sexual misconduct at elite boarding school Choate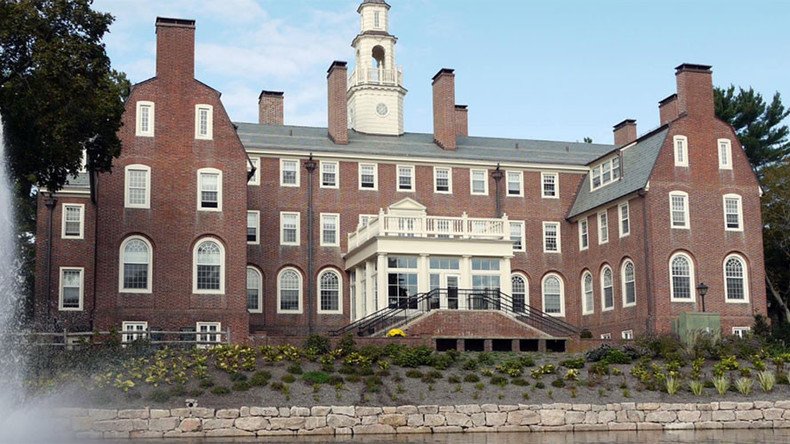 An independent investigation into Choate Rosemary Hall, an elite private boarding school in Connecticut once attended by John F. Kennedy, has found a four-decade pattern of teacher sexual misconduct that was often swept under the rug.
The 48-page report named 12 adults who worked at Choate and engaged in sexual misconduct with students between 1963 and 2010. In a letter to the school's community and alumni, administrators noted that the report described "numerous instances of adult sexual misconduct in Choate's history," including "the deeply disturbing experiences of 24 survivors."
"The detailed content of this report is devastating to read. One can only have the greatest sympathy and deepest concern for the survivors," the school wrote. "The conduct of these adults violated the foundation of our community: the sacred trust between students and the adults charged with their care."
The students were both male and female, while the faculty were all men. In some instances, the sexual relationships lasted for months, including after the students had left the school.
The independent investigation began in October 2016 after the school received "specific reports" of "adult sexual misconduct with students at Choate Rosemary Hall, The Choate School, and Rosemary Hall." Nancy Kestenbaum of Covington & Burling LLP, an experienced investigator and former prosecutor was hired to conduct the probe.
Kestenbaum looked into a broad range of "inappropriate behaviors" under the umbrella of "sexual misconduct." Since the 1970s, the school's policies have explicitly forbidden "sexual relationships or deep emotional attachments" between teachers and students. The investigation's mandate did not include student-on-student sexual misconduct, nor did it include a legal analysis – only "factual reporting."
The reports of such misconduct, which began in the 1960s and continued through the present, were "distributed in a rough bell curve, with the greatest number of reports concerning incidents in the 1980s, with roughly half that number in the 1970s and 1990s," the investigation found. There were a "handful of reports" in the 2010s, but none involved a current Choate student.
One of the men named in the report, Spanish teacher Jaime Rivera-Murillo, was accused of raping a 17-year-old female student in a swimming pool in Costa Rica after drinking heavily with a group of students in 1999.
He was also accused of inappropriately touching a female student's breast on the same school trip. Rivera-Murillo was promptly called back to the US and fired for "just cause."
READ MORE: Report of widespread sexual abuse in 'exclusive' Moscow school checked by investigators
Although the school did not provide Rivera-Murillo a letter of recommendation, it did not warn other schools of the reasons behind his firing, a practice known as "passing the trash."
Thus, he later served as a teacher or administrator at a number of schools, including as the principal of Wamogo Regional High school in Litchfield, Connecticut. When Choate learned of his position earlier this year, the school wrote to the district superintendent. He was placed on leave in March, and resigned on April 6.
While some of the victims said they were "flattered" by the attention at the time, they told investigators "they later recognized that the conduct had been abusive. They described Choate faculty and staff engaging in acts with them that included intimate kissing, intimate touching, and sexual intercourse."
Others, however, said that, as students, they knew the faculty or staff members' actions were abusive, "including forced or coerced intercourse, as well as other incidents of unwanted contact that led students to feel betrayed by faculty or staff they had trusted and admired."
"Regardless of how the graduates felt at the time, many reported to us that these physical or sexual encounters with faculty or staff, who had occupied positions of authority and trust, disturbed them throughout their adult lives," the investigation found.
The investigation revealed that the school did not begin to address issues of sexual misconduct at an institutional level through more comprehensive policies and more frequent training until Edward Shanahan became the headmaster, a role he served in from 1991 to 2011.
His approach to sexual misconduct began even before he received reports of inappropriate behavior between employees and students, which he and other administrators cited as a trigger for increased focus on these issues. The current headmaster, Alex Curtis, continued those policies.
There was no pattern to the school's responses to reports of sexual misconduct, though they were handled "internally and quietly" when substantiated.
"When a faculty member was a long-term and admired teacher, action sometimes came more slowly," the investigation found. "On at least one occasion, a faculty member remained until his voluntary retirement, some ten years after a student reported an incident of sexual misconduct."
Although Connecticut law has required the reporting of suspected child abuse or neglect to the state's Department of Children and Families (DCF) since 1965 and labeled teachers as mandatory reporters since 1967, Choate did not make any sexual misconduct reports to DCF before 2010. Other than one incident report in 2010, the remainder occurred during two months in 2016.
The school previously investigated reports of sexual misconduct after two graduates recounted experiences in the spring of 2013. However, Choate did not appoint the independent investigator until after the Boston Globe began publishing a series of articles about sex abuse at New England private schools, which led to a similar investigation at Rhode Island's St. George's School, another elite boarding school.
Elite boarding schools like Choate and St. George's provide an opportunity for such sexual misconduct to occur because of their insular nature, Paul Mones, a lawyer who represents victims of sexual abuse, told the New York Times.
"They are closed systems, especially residential private schools where kids are separated from their parents," he said. "It's not like a public school, with people coming in and out all the time. There are many more opportunities for teachers to do this."
Kestenbaum agreed with Mones in the report, noting that the "inherent intimacy of a boarding school environment… in which faculty advisers live in student dorms and are expected to visit students in their rooms, in which teachers have students into their apartments on occasion, and in which adults and adolescents sometimes travel off campus together, requires particular vigilance."
Alaska school hid evidence of employee sexually abusing disabled kids – lawsuit
The report did not make any recommendations as to how the school should proceed, as that was not part of the investigation's mandate. Choate has, however, established an independent therapy fund to assist alumni who experienced adult sexual misconduct as students, including offering immediate crisis counseling and providing a fund to help pay for current therapy needs.
You can share this story on social media: