Numerous human rights abuses committed by students of US Pentagon schools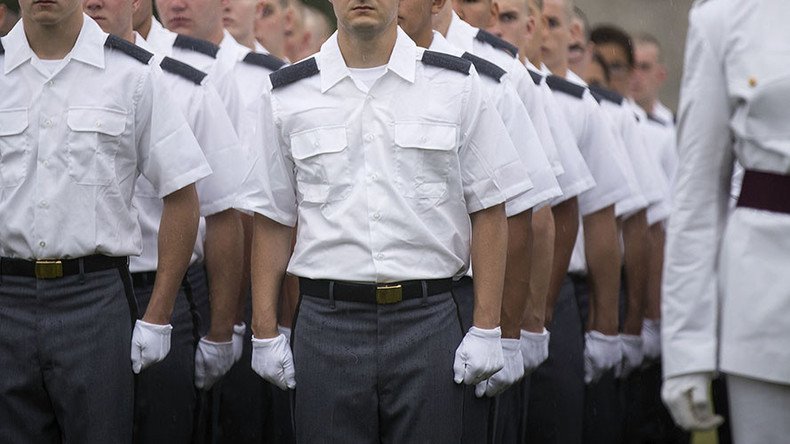 A number of foreign military officers who attended US Pentagon schools have gone on to commit rape, murder, genocide and carry out coups, data from the State Department reveal.
The Center for Public Integrity reports that at least 17 high-ranking foreign students that attended the schools between 1985 and 2010 have been convicted of human rights abuses and crimes in their home countries.
Annual State Department reports sent to Congress show at least 13 of the 17 were arrested or charged for genocide, rape or murder. Others are accused of torture or murder but have not been convicted and continue to work freely.
The total number of offending US graduates is said to be far higher than 17, as the 2002 law (section 549 of the Foreign Assistance Act of 1961) which requires the State Department to include reports to Congress only covers one of over fifty US training and defense assistance programs.
Additionally, the Center for International Policy's own records, gathered through monitoring media reports, finds there are at least 33 other officers who are accused of various human rights abuses.
The students featured in the State Department reports are part of the International Military Education and Training (IMET) program, founded in 1976 with the aim of forging closer ties with foreign militaries. It's the flagship program offering foreign students from over 120 countries a US education paid for by Washington.
READ MORE: 100's of US tanks, heavy equipment flow into Europe to counter 'Russian aggression'

The IMET costs $100 million a year. In 2014, it trained around 4,000 foreign military officers, teaching them war strategy, management and military history. A 2016 analysis found 11.7 of those took courses on human rights or the rule of law, the Center for Public Integrity reports.
According to Shannon Green, former National Security Council director for global engagement, "the human rights training component is merely a check the box exercise," adding that US's "desire for strong security partnerships" and its security interests conflicts with protecting human rights.
Those implicated in the reports include five foreign generals, a senior intelligence official and a police inspector.
Guinea
Colonel Moussa Tiegboro Camara attended the Maritime Law Enforcement Boarding Office course in 2007.
The State Department Human Rights report implicated Camara as a "ringleader" in the Guinea stadium massacre of 2009, where 156 people were killed and numerous women raped at an anti-government rally described as "one of the bloodiest events in the West African country's history."
Human Rights Watch said the armed forces attempted to cover up the "premeditated" slaughter and sexual violence by hiding the bodies in mass graves.
Columbia
Gustave Sierra, a former Administrative Department of Security sub director, attended the Hemispheric Defense Studies Interagency Coordination and Counterrorism course in 2008.
In 2011, the Human Rights Report found he was sentenced to eight years in prison for illegal wiretapping.
Nepal
Army Major Niranjan Basnet attended the Center for Civil Military Relations Enhanced International Peacekeeping Capability Instructor course in 2001.
He's implicated in the 2004 killing of 15-year-old Maoist Maina Sunuwar, who died in Army custody. Although no one has been held responsible for her death, Basnet was present during her interrogation, which included "water pouring" and "electric shock."
Bolivia
General Roberto Claros Flores attended the U.S. Air Command and Staff College in Alabama in 1987, while Admiral Luis Aranda had one year of IMT training in 1987.
Both were convicted of war crimes including genocide in 2011 for their actions in the 2003 Gas War, a conflict over the export of Bolivia's natural gas to Mexico and the US.
Farmers and indigenous people, including current president Evo Morales, fought against the government. As a result, the president Sanchez de Lozada stepped down and a referendum was held over the nationalization of Bolivian hydrocarbons.
Guinea-Bissau
Jose Zamora Induta, a Navy captain, attended four IMET courses in 2002.
In 2009, Induta became Armed Forces Chief of Staff and captain after President João Bernardo Vieira and the Chief of Staff Staff Tagme Na Waie were killed, with Vieira being tortured before his death.
A lawyer, who claimed Induta's promotion was not in line with traditional military succession practice, was taken to a military facility and beaten for four days, according to the State Department's 2009 Human Rights report.
READ MORE: Venezuela, Bahrain among 15 countries stripped of voting rights at UN due to debts

The US Ambassador also wrote that he had used "illegal and brutish tactics" with a contempt for law and human rights, while his armed forces committed a "violent, extra-judicial campaign of silencing dissent."
Democratic Republic of the Congo
John Numbi, senior military officer and adviser to President Joseph Kabila, studied at the US Defense Institute of International Legal Studies in 2007.
In 2010, he was suspended as head of police after human rights activist Floribert Chebeya Bahizire was killed on the night he had been summoned by Numbi.
In 2016, he was sanctioned by the US Treasury Department for "violent intimidation" of opposition political candidates, including death threats. Kabila denounced the sanctions.
Mali
One example from the Center for Public Integrity's own list, based on media reports, is Amadou Sanogo, a former army captain from Mali. He attended courses at the Marine Corps base in Quantico, Virginia, and at Army bases in Fort Huachuca, Arizona, and Fort Benning, Georgia.
Sanogo led a coup against the democratic government of President Amadou Toumani Touré as army captain. He remained as Mali's de facto leader for over a year while Islamists took over the northern area of the country and imposed Sharia law. He was jailed in 2013.
Speaking to Der Spiegel in 2013, he said, "America is great country with a fantastic army. I tried to put all the things I learned there into practice here."
You can share this story on social media: