4 governors ask Trump admin to chill out on marijuana enforcement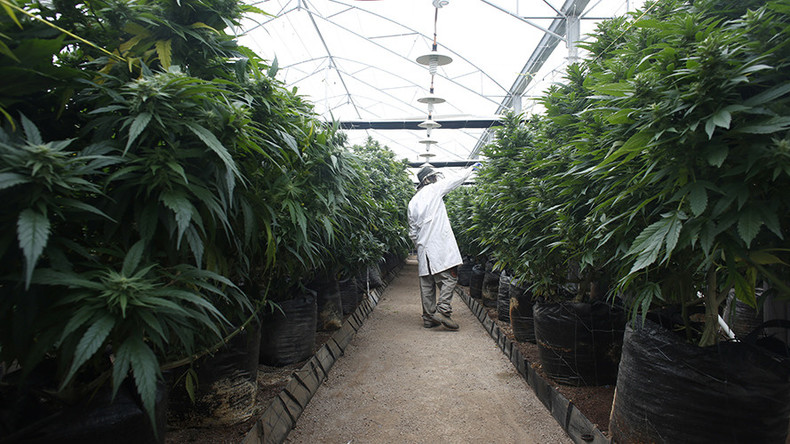 Governors in four states that have legalized marijuana in some form have written a letter to two Trump administration officials requesting they consult with states before making any changes to regulatory and enforcement systems for the drug.
The independent governor of Alaska joined the Democratic governors of Colorado, Oregon and Washington to write a letter to US Attorney General Jeff Sessions and Treasury Secretary Steve Mnuchin on Monday, asking them to continue the Obama administration's hands-off policy towards enforcing federal marijuana laws in states that have okayed medicinal or recreational use.
"We understand you and others in the administration have some concerns regarding marijuana," the governors wrote. "We sympathize, as many of us expressed apprehensions before our states adopted current laws."
Governors Kate Brown (D-Oregon), John Hickenlooper (D-Colorado), Jay Inslee (D-Washington) and Bill Walker (I-Alaska) signed the letter. Colorado became the first state to legalize pot in January 2014, with Washington beginning sales six months later. Alaska joined the party in February 2015, and Oregon legalized marijuana in July of that year.
Since then, four other states ‒ California, Maine, Massachusetts and Nevada ‒ as well as the District of Columbia have all legalized recreational pot use, while another 13 have decriminalized it. A total of 28 states and DC allow for medicinal marijuana.
Sessions is a staunch opponent of marijuana, and reportedly once joked that he thought members of the Ku Klux Klan were "okay, until he learned that they smoked marijuana." At the end of February, the Trump administration signaled a crackdown on the recreational use of the drug even in states where it is legal.
"The president understands the pain and suffering that many people go through who are facing especially terminal diseases and the comfort that some of these drugs, including medical marijuana, can bring to them," White House press secretary Sean Spicer said at the time, noting that a 2011 federal appropriations rider allows for states to legalize medicinal marijuana. "There is a big difference between that and recreational marijuana… That's a very, very different subject."
The National Cannabis Industry Association (NCIA) applauded the letter, saying it was a proactive approach that was in line with the Trump administration's priorities of putting Americans back to work and keeping drug cartels out.
"There is no denying that regulated cannabis businesses are preferable to underground markets dominated by gangs and cartels," NCIA Executive Director Aaron Smith said in a statement. "The regulated markets are creating jobs, generating tax revenue, and taking marijuana sales off the streets. The Trump administration should be working with the states to ensure the regulated markets are functioning properly and safely, not working against the states to shut them down."
The governors called on the new administration to adhere to the 2013 Department of Justice Cole Memorandum, which they described as "indispensable" because it provides "the necessary framework for state regulatory programs centered on public safety and health protections."
Instead of challenging state laws legalizing pot use or enforcing federal laws in those states, the DOJ would shift its focus on enforcing and prosecuting violations of eight priority areas, which include the prevention of marijuana distribution to minors, transportation across state lines where it is illegal as well and the prosecution of criminal organizations that do not have a permit to sell pot.
"Overhauling the Cole Memo is sure to produce unintended and harmful consequences," the governors wrote. "Changes that hurt the regulated market would divert existing marijuana product into the black market and increase dangerous activity in both our states and our neighboring states."
They also asked the Trump administration not to change the related Financial Crimes Enforcement Network (FinCEN) guidance, which the governors said would make financial institutions less willing to provide services to marijuana-related businesses.
"This would force industry participants to be even more cash reliant, posing safety risks both to the public and to state regulators conducting enforcement activity," they wrote. "The Cole Memo and FinCEN guidance strike a reasonable balance between allowing the states to enact reasonable regulations and the federal government's interest in controlling some of the collateral consequences of legalization."
Courts have increasingly sided with states over the DOJ when it comes to prosecuting marijuana offenses. In August, the 9th Circuit Court of Appeals ‒ which covers Alaska, California, Oregon and Washington, among other states ‒ ruled that the federal government cannot prosecute medical marijuana users and growers in the states that have legalized it. Last March, the Supreme Court declined to wade into a dispute between neighboring states over Colorado's legalization.
You can share this story on social media: