Keep us out of it: Supreme Court rejects states' case against Colo. pot legalization
Published time: 21 Mar, 2016 20:20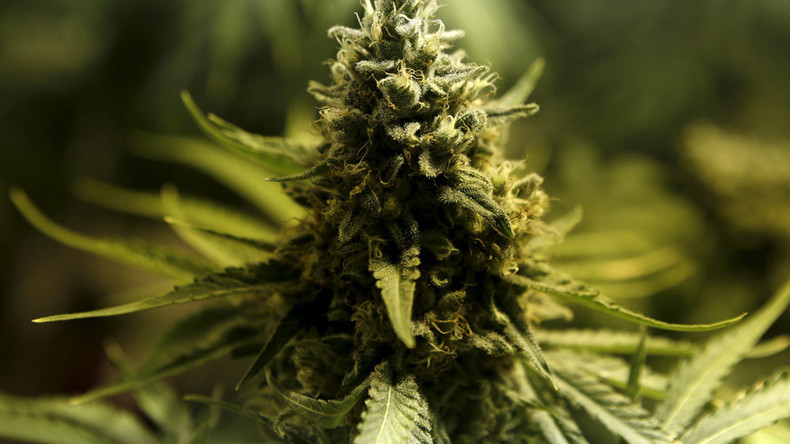 The majority of US Supreme Court justices declined to get involved in a dispute between Colorado and two neighboring states that claimed marijuana legalization was creating negative consequences for their law enforcement agencies.
Back in 2014, Oklahoma and Nebraska complained to the highest court in the land that Colorado's 2012 legalization of marijuana "increased the flow of marijuana over their borders," where recreational use of the drug is still illegal. As a result, the states that argued their residents were directly harmed and that local law enforcement had to spend more resources in order to combat the influx of illegal pot.
"The State of Colorado authorizes, oversees, protects, and profits from a sprawling $100-million-per-month marijuana growing, processing, and retailing organization that exported thousands of pounds of marijuana to some 36 States in 2014," the states argued in a January supplemental brief. "If this entity were based south of our border, the federal government would prosecute it as a drug cartel."
Nebraska and Oklahoma argued that they were not attempting to invalidate Colorado's decision to legalize pot, but that the regulatory structure it settled on was not sufficient to keep the drug within the Centennial State's borders. While Colorado collects tax revenue from pot sales, Oklahoma and Nebraska argued their residents are paying more to keep the drug off their streets. Both states believe the federal government should intervene since marijuana is still illegal on the national level.
In an unsigned opinion that did not offer further explanation, the Supreme Court declined to get involved and delivered a victory for Colorado, which claimed that the rules Nebraska and Omaha want to see struck down are moving the sale of marijuana into a regulated marketplace and off the black market. Colorado laws do not allow the transfer of pot beyond state lines.
"Colorado does not intend, nor has it attempted, to reach across the border to invade the plaintiff states' sovereign rights," the state said in its own brief. "Indeed, it is Colorado's sovereignty that is at stake here: Nebraska and Oklahoma filed this case in an attempt to reach across their borders and selectively invalidate state laws with which they disagree."
The federal government, meanwhile, sided with Colorado and called on the Supreme Court not to accept the case.
"Entertaining the type of dispute at issue here ‒ essentially that one state's laws make it more likely that third parties will violate federal and state law in another state ‒ would represent a substantial and unwarranted expansion of this court's original jurisdiction," US Solicitor General Donald Verrilli said in a brief.
The case was never heard in the lower circuits because Nebraska and Oklahoma went straight to the Supreme Court, citing a rule that allows them to bring conflict between states directly to the country's highest court. While the justices rejected the bid, Justices Clarence Thomas and Samuel Alito dissented, saying they would've heard the case.
"The plaintiff states have alleged significant harms to their sovereign interests caused by another state," Thomas wrote in the dissent.
If Nebraska and Oklahoma wish to pursue this case, they are still able to file suits in the lower courts
Colorado is one of four states – along with Alaska, Oregon, Washington and the District of Columbia – that has voted to legalize recreational marijuana use.