Feds ban legal marijuana growers from using government water supply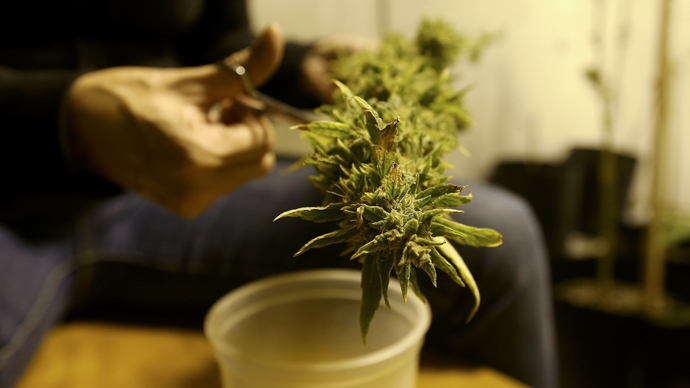 The United States Bureau of Reclamation delivers water to around 1.2 million acres of irrigated land west of the Mississippi, but certain customers in the states Washington and Colorado are now being told to find a new source.
On Tuesday this week, a spokesperson for the bureau said that that districts that rely on the government project for water are restricted from supplying that source to marijuana growers, even in jurisdictions where state law allows for weed to be lawfully harvested.
Farmers in Colorado and Washington recently became the first in the country to be allowed to harvest small amounts of marijuana due to recently enacted state law. Federal legislation, however, still considers weed to be a Schedule 1 narcotic on par with heroin and other opiates.
On Tuesday, Dan Dubray of the US Bureau of Reclamation emailed a statement to reporters reiterating agency policy with regards to how the US Department of the Interior-controlled water supply can be used.
"As a federal agency, reclamation is obligated to adhere to federal law in the conduct of its responsibilities to the American people," the spokesman said, according to the North Colorado Business Report.
"Reclamation will operate its facilities and administer its water-related contracts in a manner that is consistent with the Controlled Substances Act of 1970, as amended. This includes locations where state law has decriminalized or authorized the cultivation of marijuana. Reclamation will refer any inconsistent uses of federal resources of which it becomes aware to the Department of Justice and coordinate with the proper enforcement authorities," he added in a statement cited by NBC News.
Previously, US President Barack Obama's administration said the federal government won't go out of the way to have the Department of Justice go after marijuana growers in jurisdictions where state law interferes with national legislation. Now according to a statement of temporary police published on the USBR website, however, bureau employees made aware of any attempt to use government water on weed crops will be expected to take the matter up with the DOJ.
"Should Reclamation employees become aware that Reclamation facilities or the water they supply are being used to facilitate cultivation of marijuana, they will, through their line management, bring this to the attention of their regional director, who will report such use to the Department of Justice and document the reporting action," part of the police change reads.
"We're not an investigative agency. We're an agency that provides water to irrigation districts," DuBray added to the Associated Press this week. "The limit of our proactive stance is that if asked, we're not approving it, and if we become aware of it, we report it."
"Will they come and shut off the water?" one licensed grower from Washington state asked the AP. "Or will they just send a note to the Justice Department and say, 'Hey, look over here'? That's the question."
Last week, another USBR spokesperson told Huffington Post that the new policy, which is scheduled to expire next May unless renewed, began "at the request of various water districts in the West." According to NBC, a decision to make the policy permanent would require federal officials to begin a lengthy process that may not easily be resolved.
Formed in 1902, the bureau maintains the dams, power plants and canals that help irrigate water across 17 states, including Texas and California as well as Oregon and Washington.