NAACP president arrested protesting Trump's attorney general pick's 'abysmal civil rights record'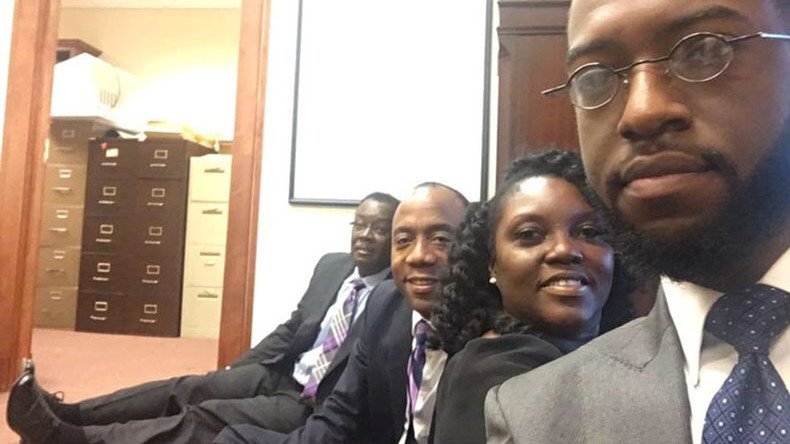 Police in Alabama arrested six civil rights activists, including the president of the NAACP, who staged a sit-in at Senator Jeff Sessions' office to protest his nomination for US Attorney General, slamming his record on voting rights and race relations.
The six protesters, including NAACP President Cornell William Brooks and the national director of the NAACP's youth division, Stephen Green, were charged with misdemeanor criminal trespassing, AP reported.
Brooks and other members of the NAACP (the National Association for the Advancement of Colored People) were later released, he wrote on Twitter, adding that "while we are happy to be out of jail, we are even more heartened and determined to # stopsessions # restorevra."
The NAACP had vowed to occupy Sessions' office in Mobile, Alabama until the 70-year-old senator, who has admitted to calling the Voting Rights Act of 1965 "intrusive legislation," either withdrew as a candidate or their protesters were arrested.
"The fact of the matter is, he has not stood up for voting rights, he has not spoken out against voter suppression. His record in the Senate is abysmal when it comes to civil rights," the NAACP president said, as quoted by WKRG news channel.
"Senator Sessions has callously ignored the reality of voter suppression, but zealously prosecuted innocent civil rights leaders on trumped-up charges of voter fraud," Brooks said in a statement, according to Reuters.
In 1986, Sessions, who was then a US attorney for Alabama, became the second nominee in 50 years to be denied confirmation as a federal judge after he was accused of making racist remarks.
Sessions's former deputy, Thomas Figures, who is African-American, said Sessions had joked about the Ku Klux Klan, saying he thought its members were "okay, until he learned that they smoked marijuana," as quoted by the Washington Post.
According to J. Gerald Hebert, a former Justice Department civil rights lawyer, Sessions referred to the American Civil Liberties Union and the NAACP as "un-American," and "in 2010 bashed several of President Obama's judicial nominees for having what he called "ACLU DNA" or "the ACLU chromosome."

"Sessions has not worked to protect civil rights. He worked against civil rights at every turn," Hebert wrote in an opinion piece for the newspaper.
A spokeswoman for Sessions has called the NAACP's criticism "false portrayals."
"Jeff Sessions has dedicated his career to upholding the rule of law, ensuring public safety and prosecuting government corruption," spokeswoman Sarah Isgur Flores said in a statement.
"Many African-American leaders who've known him for decades attest to this and have welcomed his nomination to be the next Attorney General," the statement said.
"These false portrayals of senator sessions will fail as tired, recycled, hyperbolic charges that have been thoroughly rebuked and discredited," she added on Twitter.
Sessions has refuted claims that he is prejudiced, saying that he has no racial bias whatsoever.
In November, President-elect Donald Trump named him to lead the Justice Department and the FBI.
You can share this story on social media: